The Fledgling Programme comprises a pilot project and two research and development projects. They

will take plac

e at Greenaleigh Community Garden and online over a 15 month period. 
The pilot project consists of 10 workshops, a sharing event and production of a 'do it' handmade book and ebook, containing DIY instructions for making art. The onsite R&D project explores growing art works/materials. The online R&D project explores, creating interactive website content and a children's page. 
The programme will test the feasibility of long-term goals and guide future project development.​​​​​​​
Summer Exhibition and Barbecue 2021
Thanks to everyone who came to the event and made it such a fun occasion. The exhibition, BBQ and botanical drawing workshop went down a treat!
It was also great to chat to Steve McCabe MP and Sue Hayes from the Severn Trent Community Fund - exchanging experience, sharing ideas and connecting work on the ground to policy and funding support.
Session 5 - Scoring Supporting Structures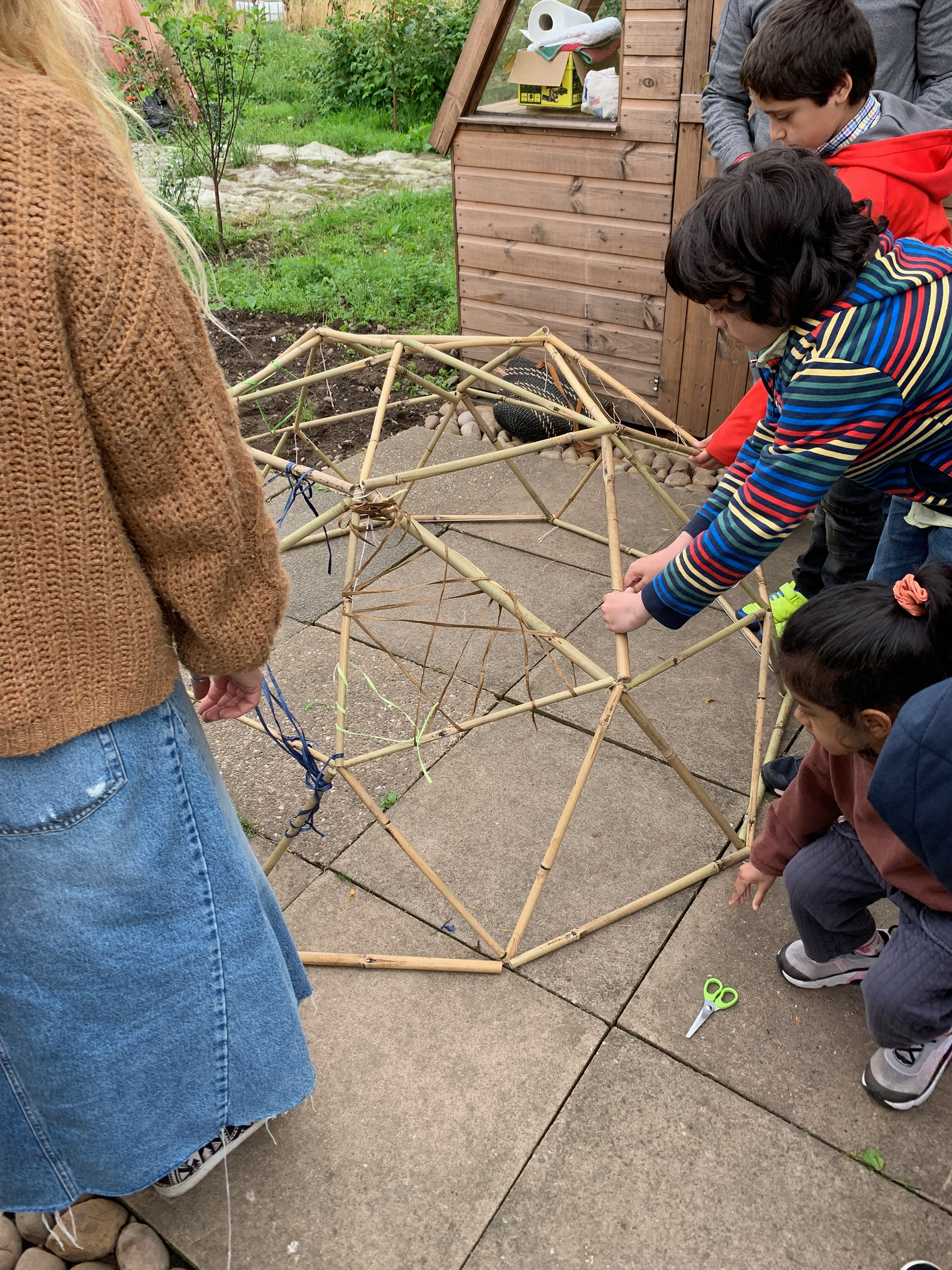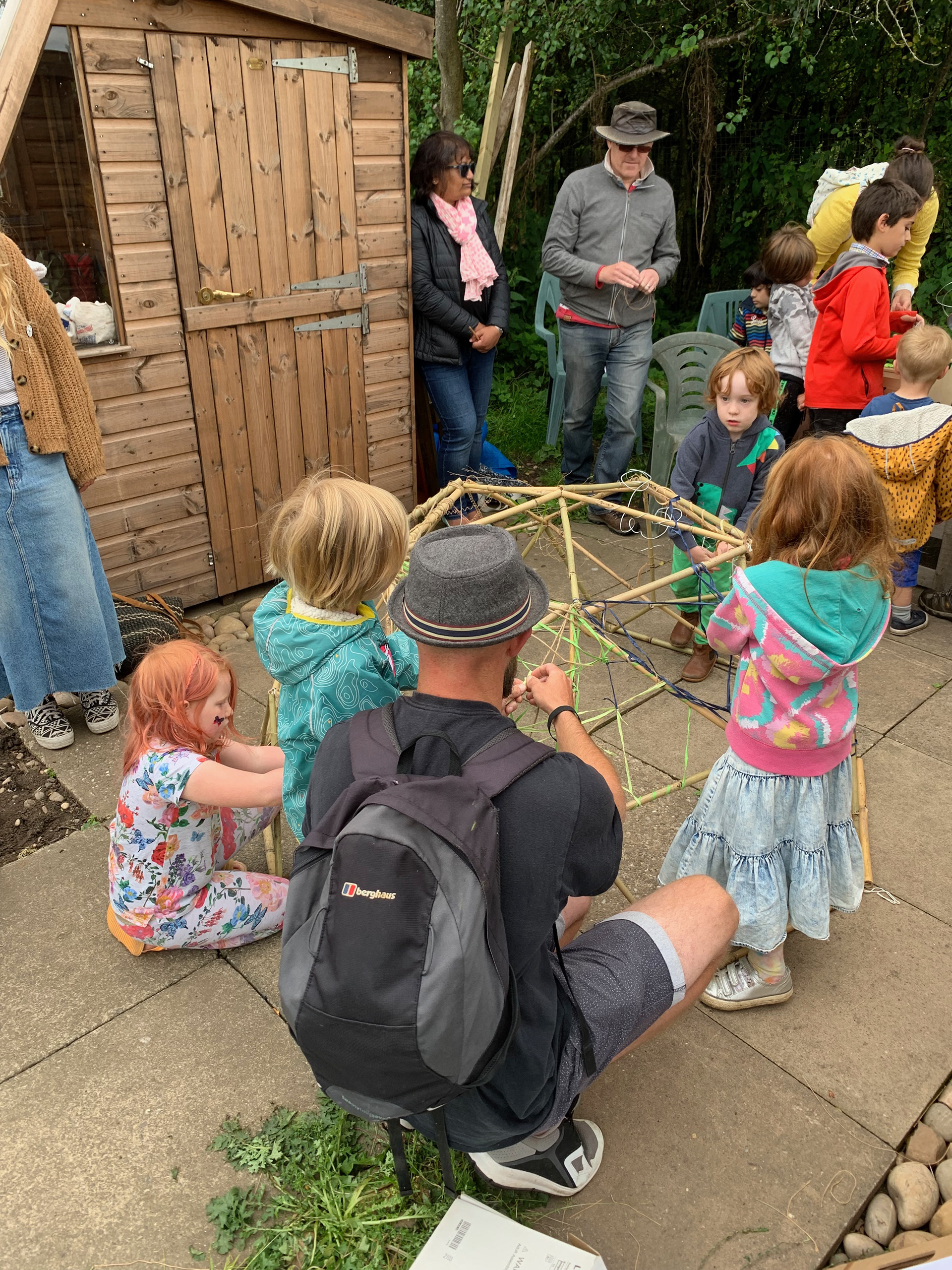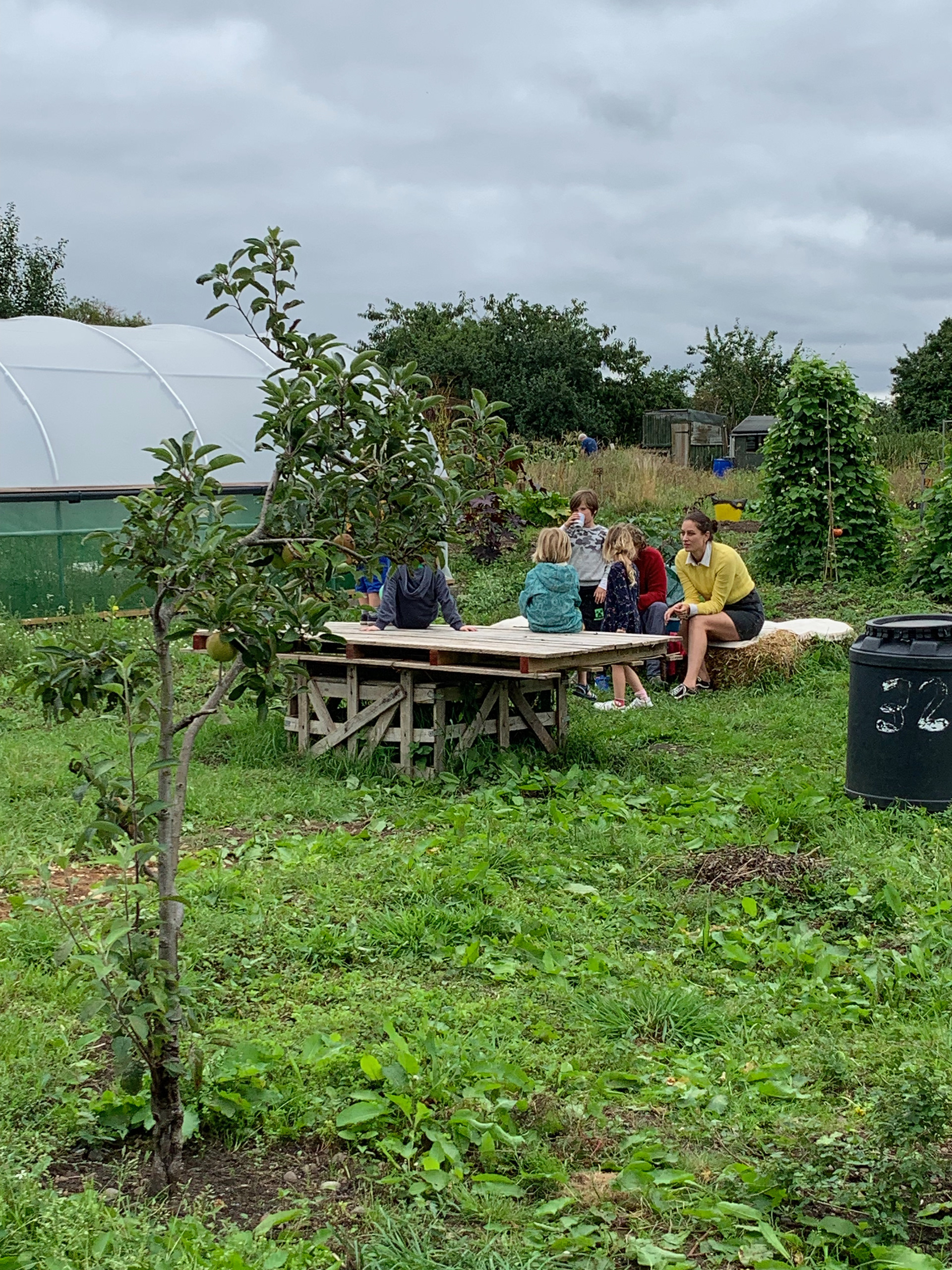 The 5th Tuesday workshop warmed up by listening to sounds in the environment...birds, crickets, bees, popping vetch seed. Equipped with coloured pencils and drawing boards, the sounds were transferred to paper using imaginary representations or invented notations. A geodesic dome was then assembled from six pre-constructed pentagons staring five triangles, and five lengths of bamboo to connect the pentagons at the base. Participants decorated the dome bearing in mind the sound awareness exercise.
Domes are known for their ability to amplify and sound. 
The standard 2V geodesic dome created here is a remarkably simple structure with an appealing geometric shape. It proved to be stable, even without connectors.
Here are a few of the graphic scores and artists that inspired the session.
Session 4 - Combing for Curiosities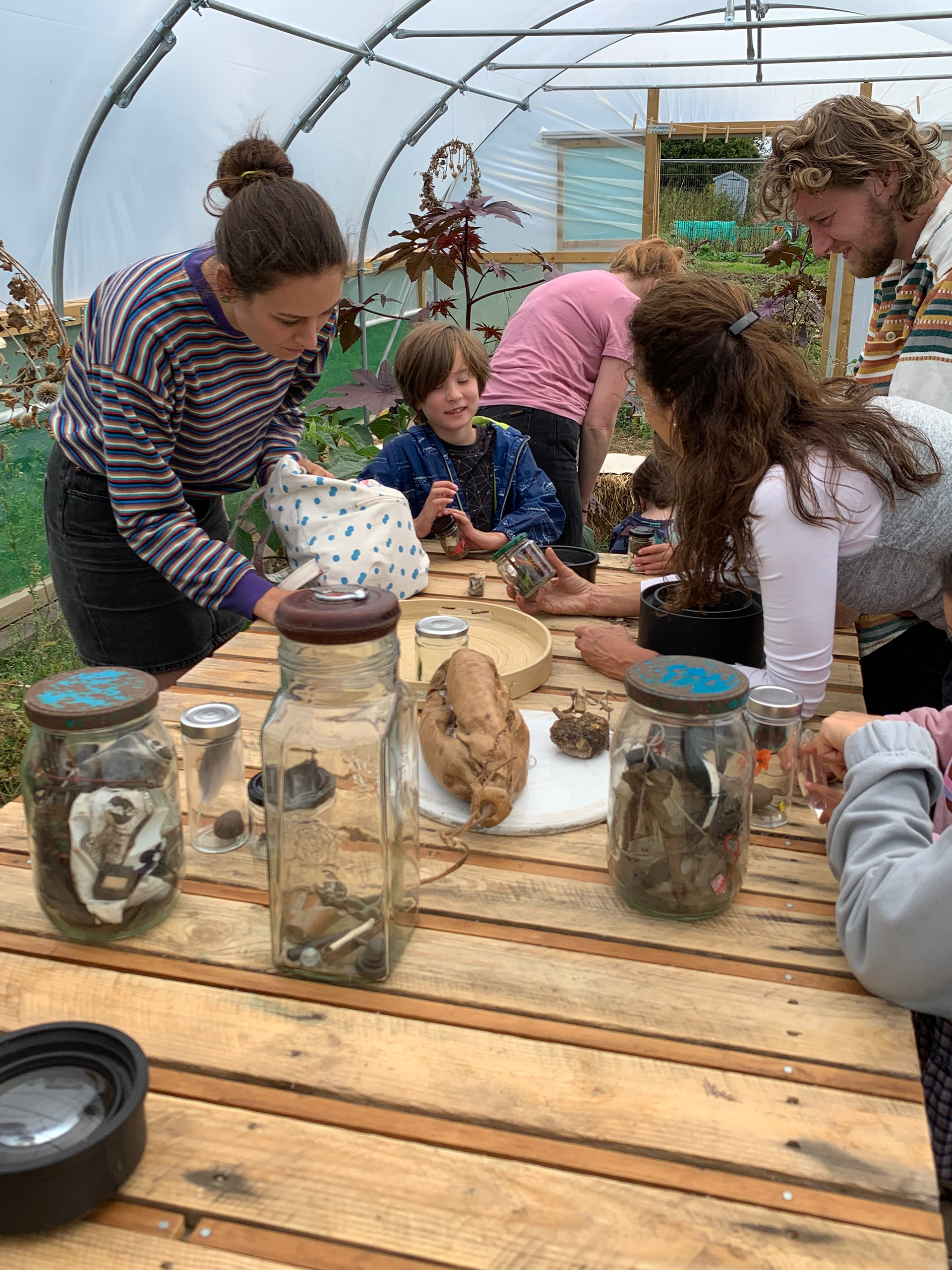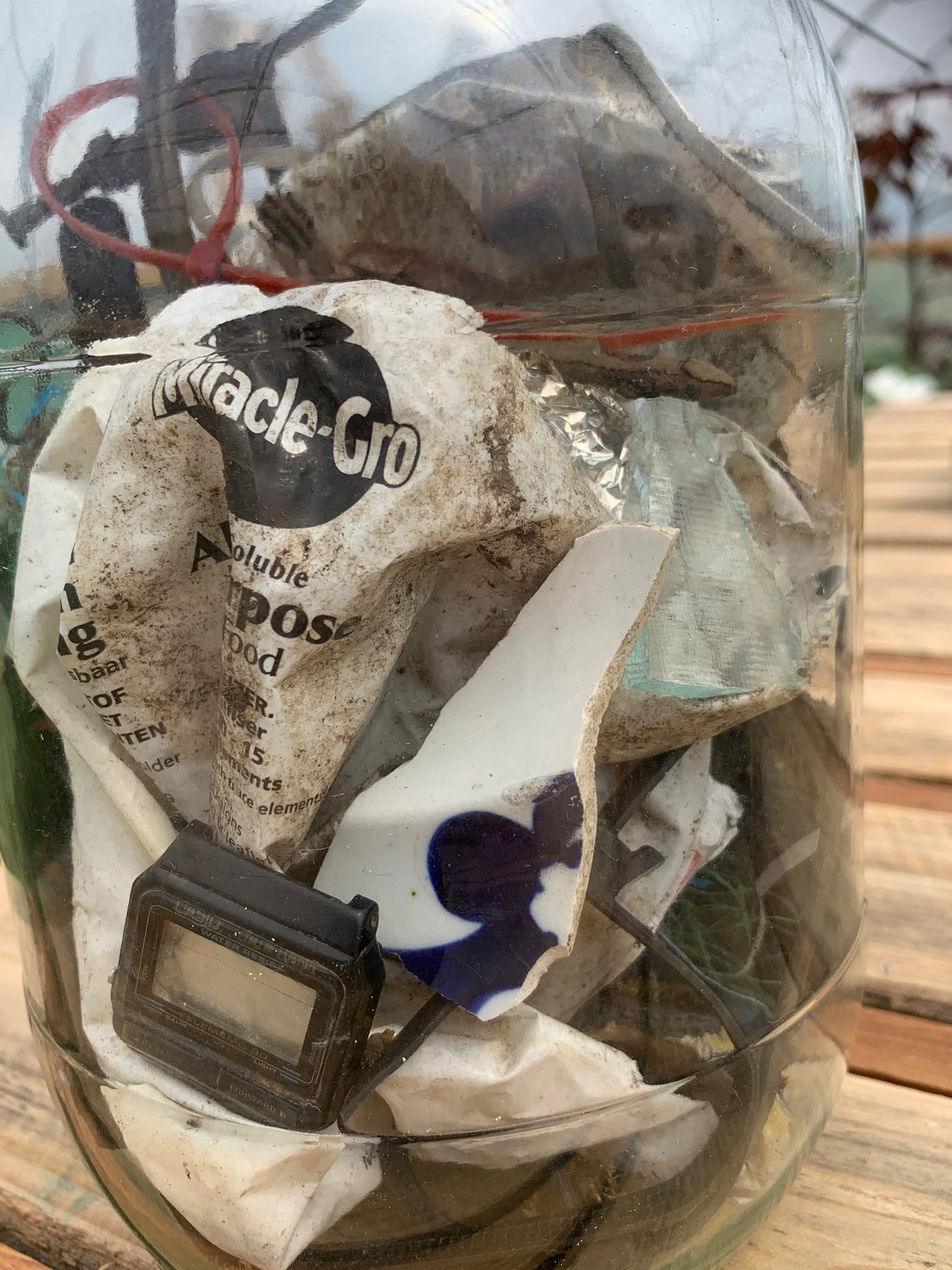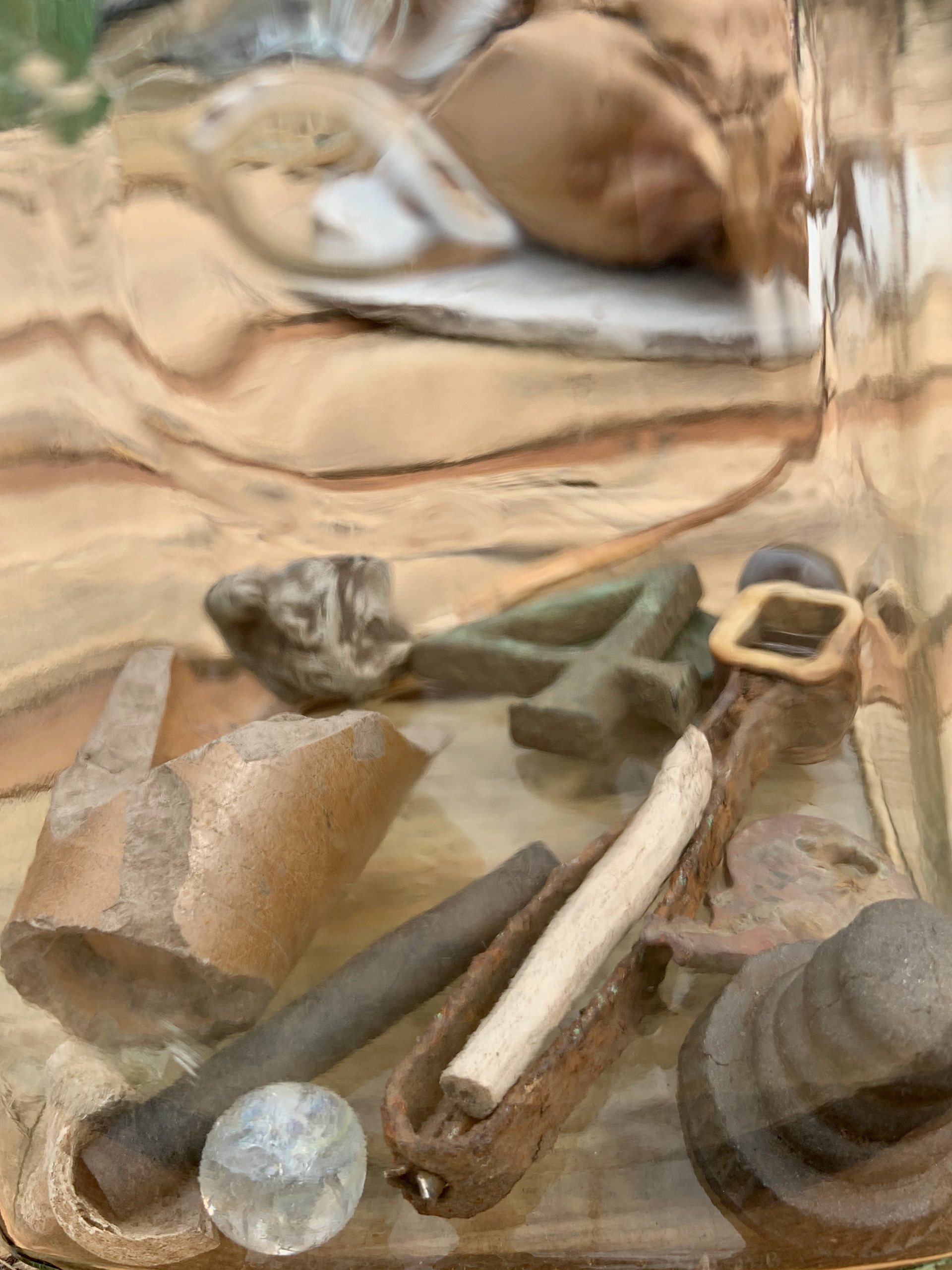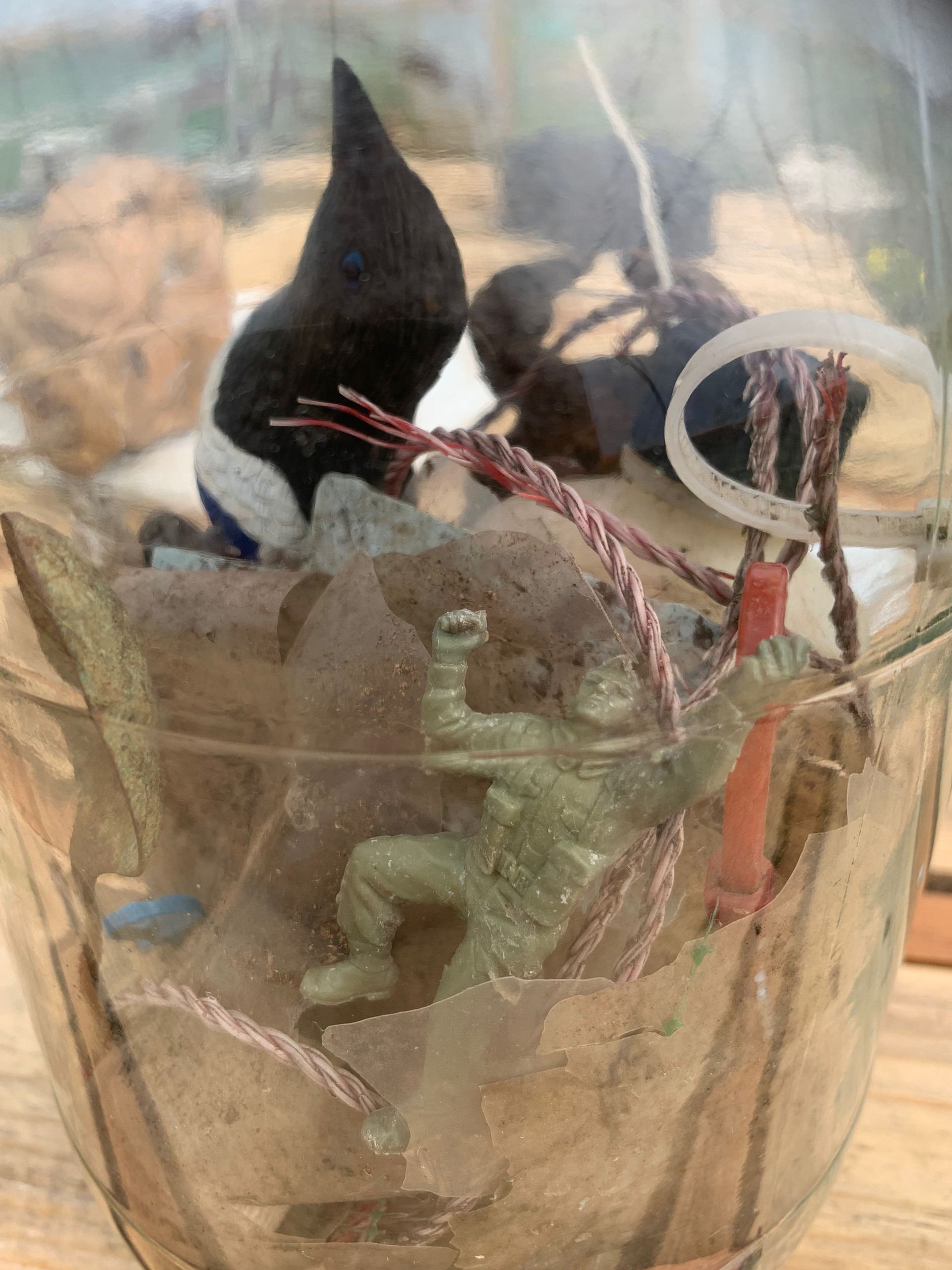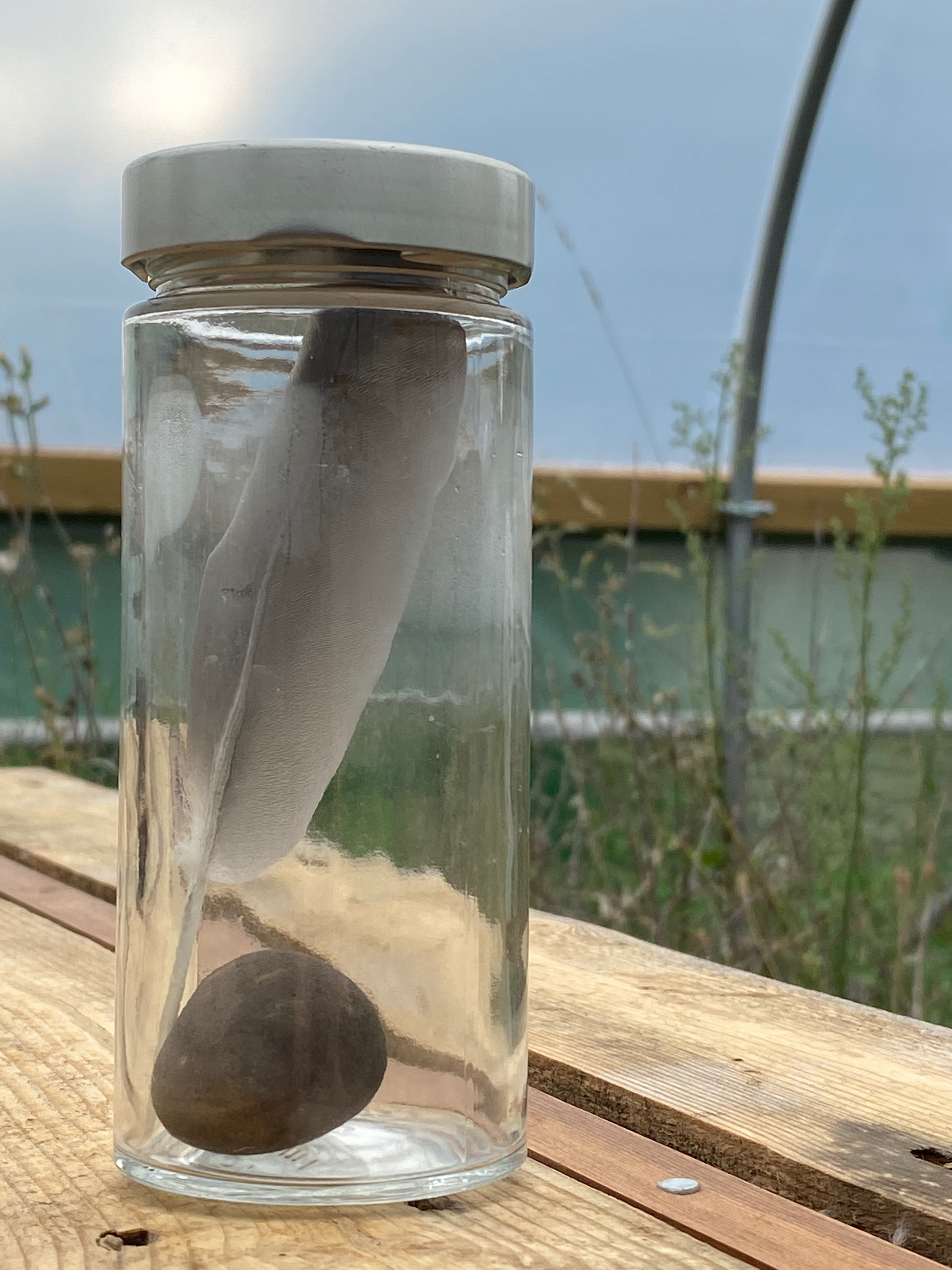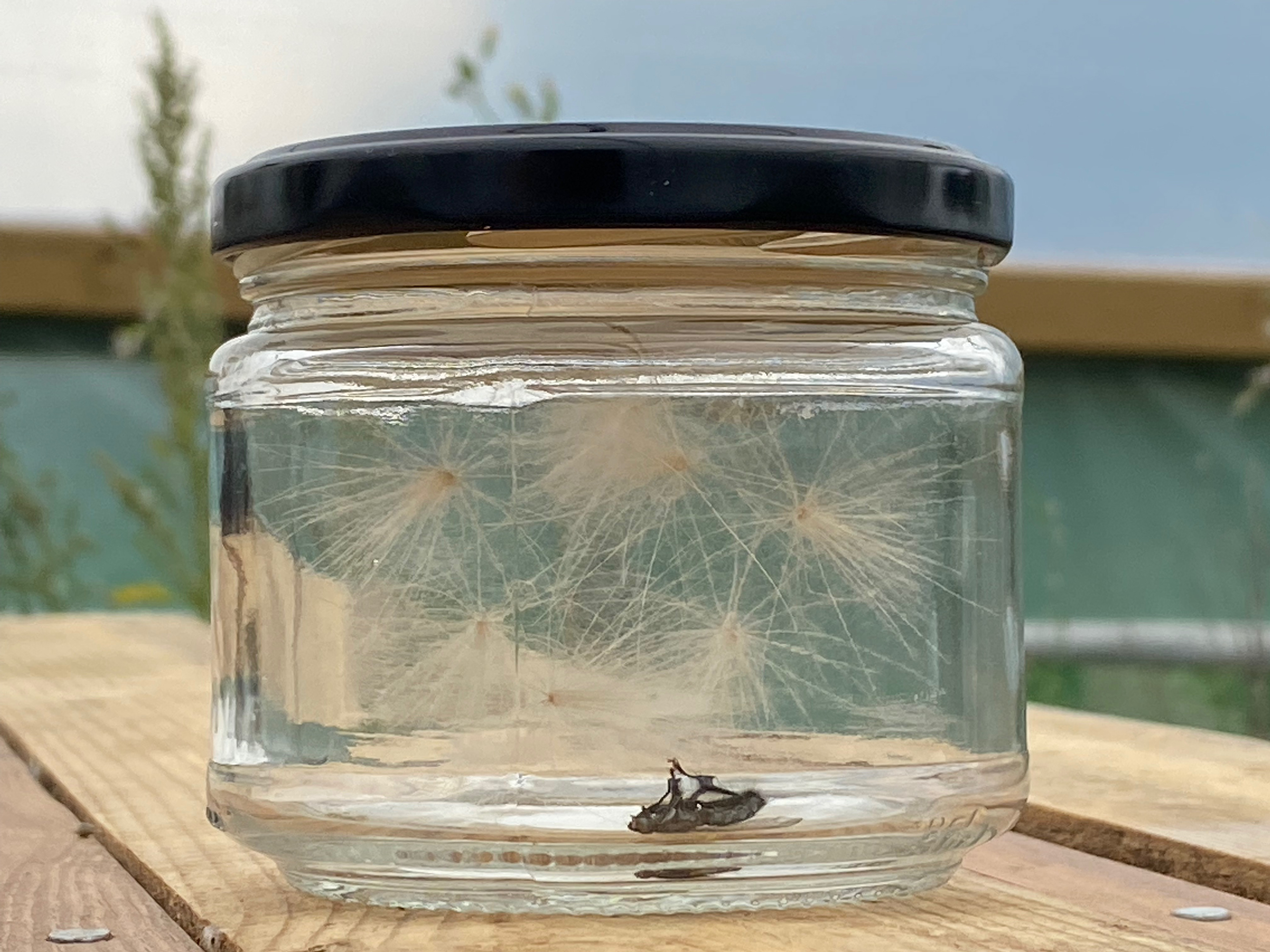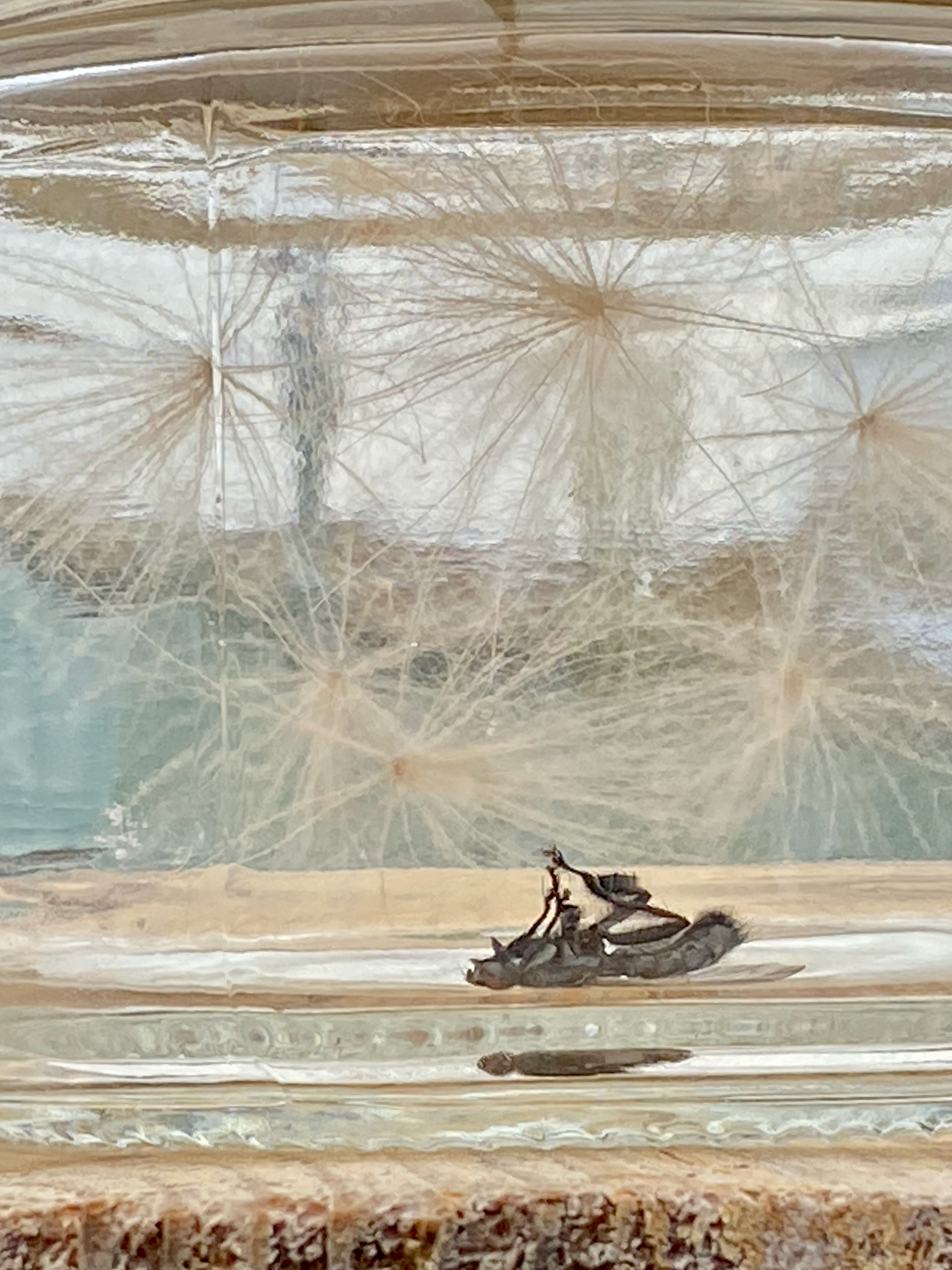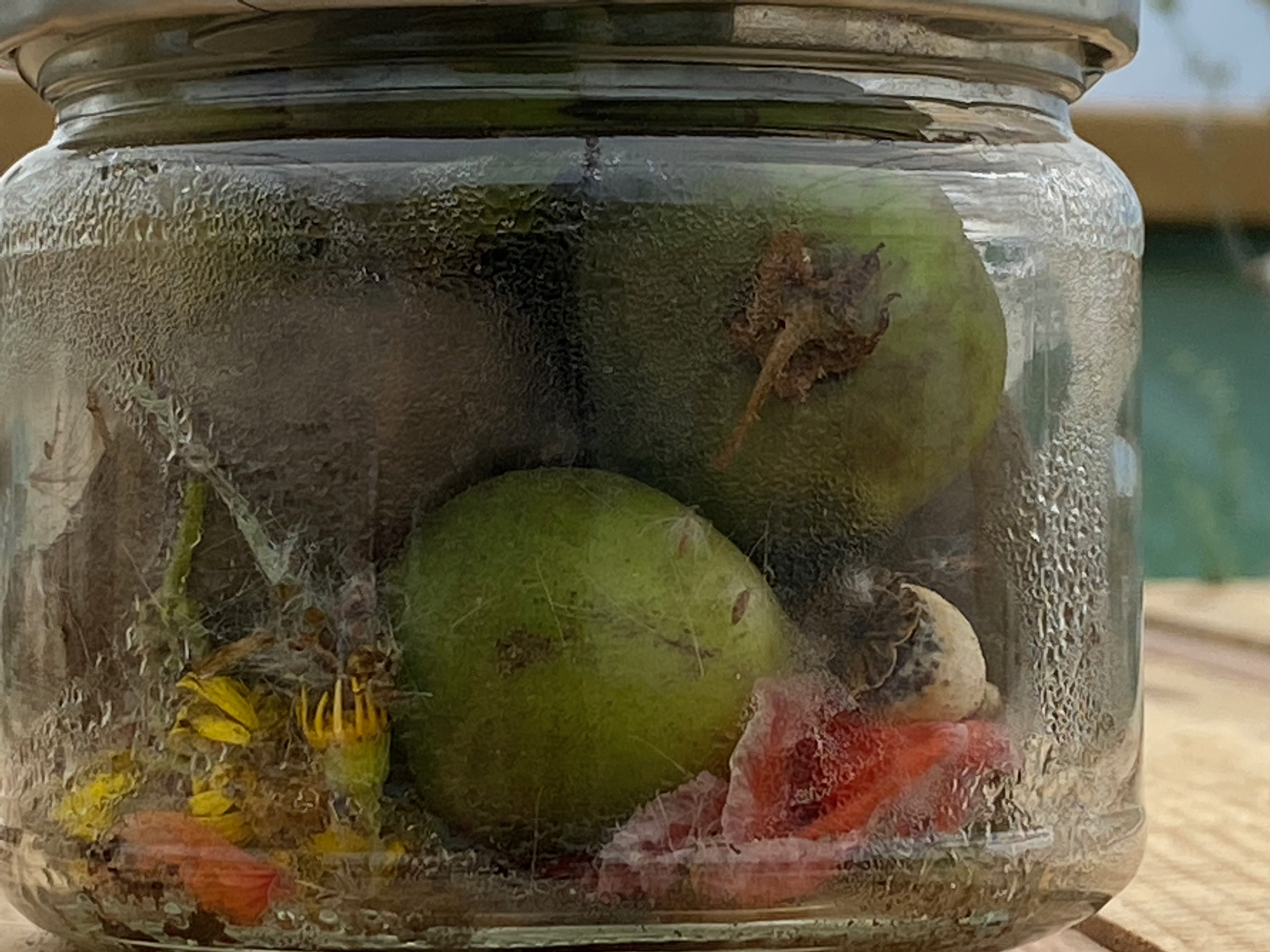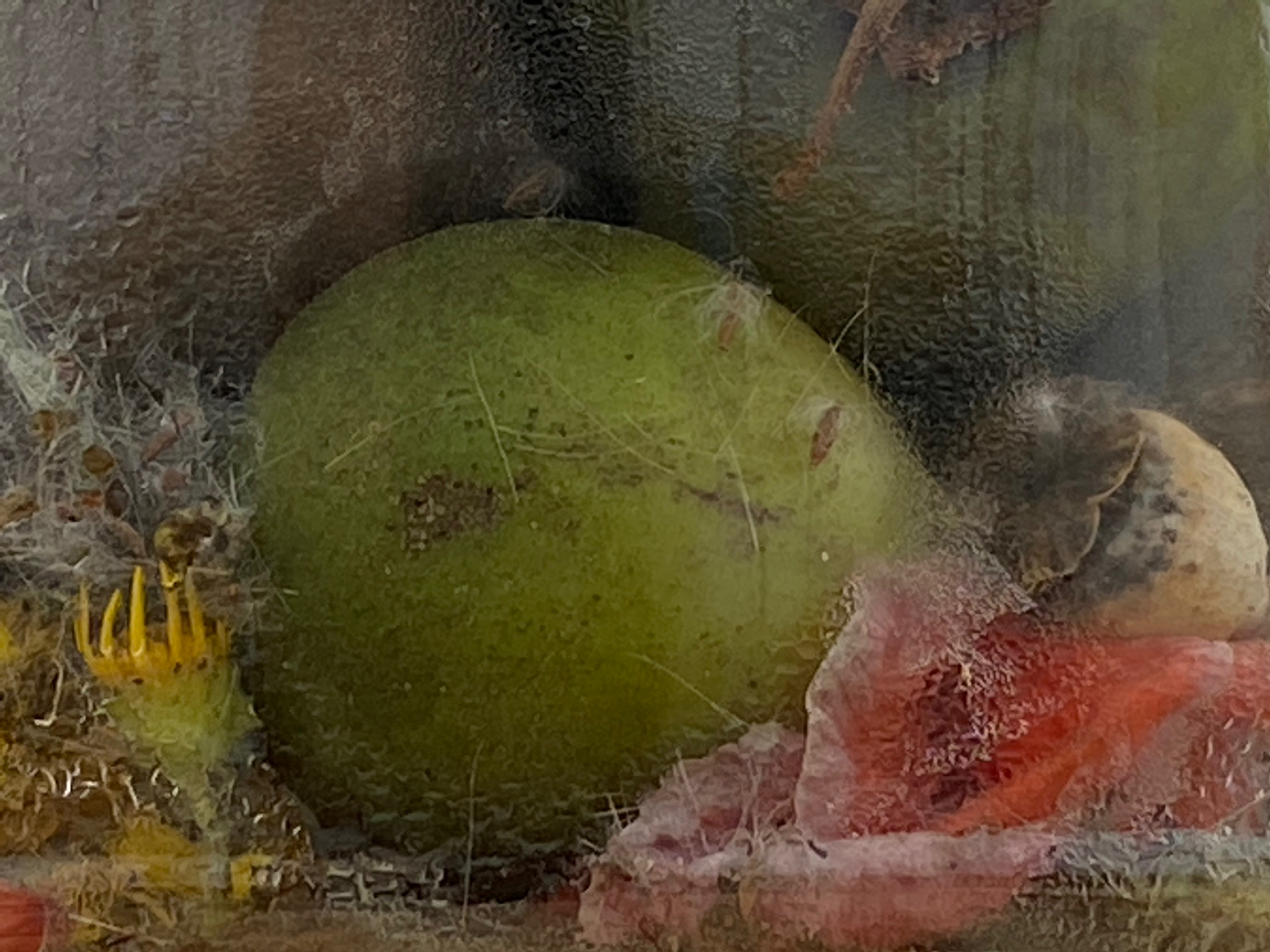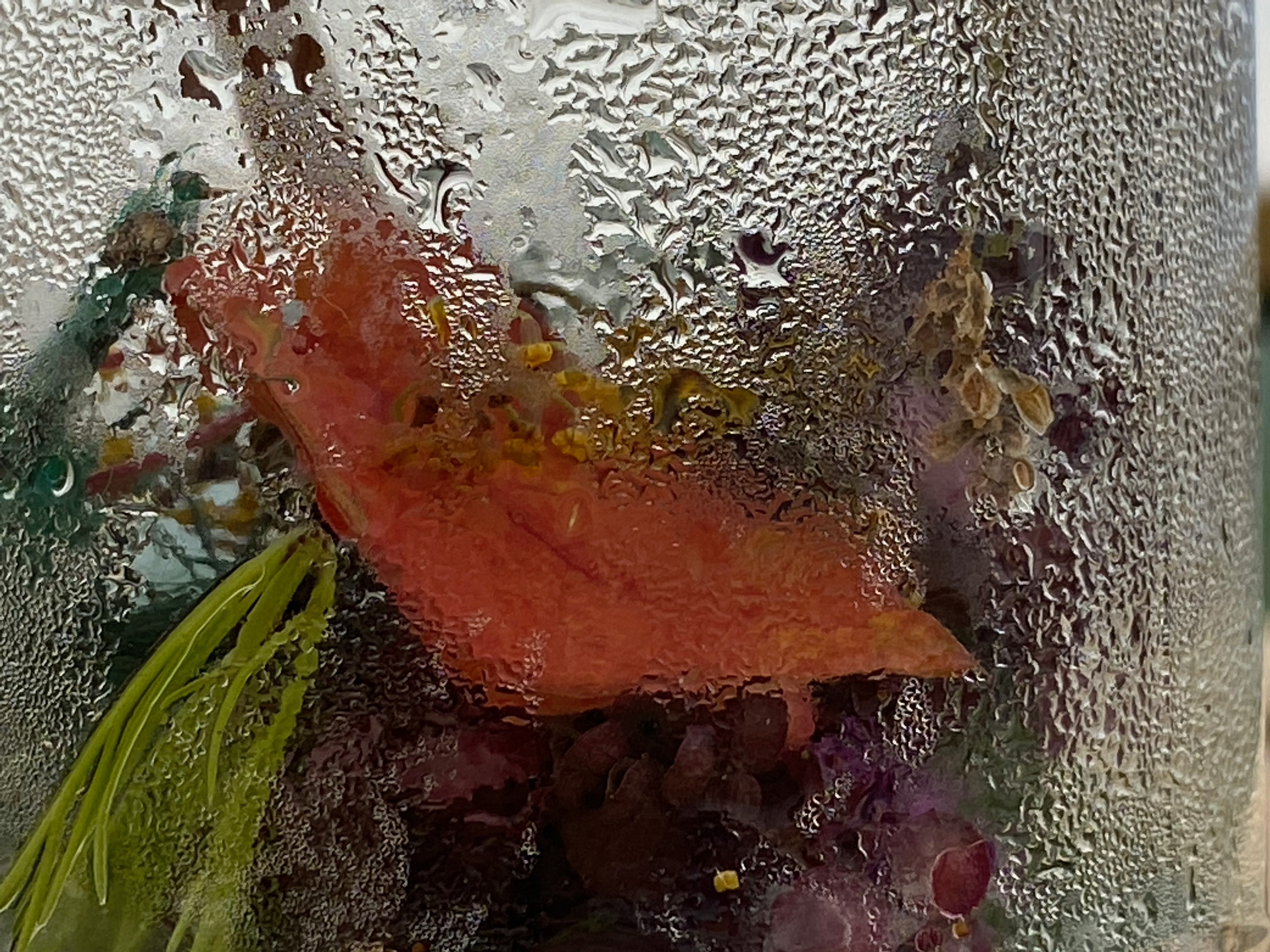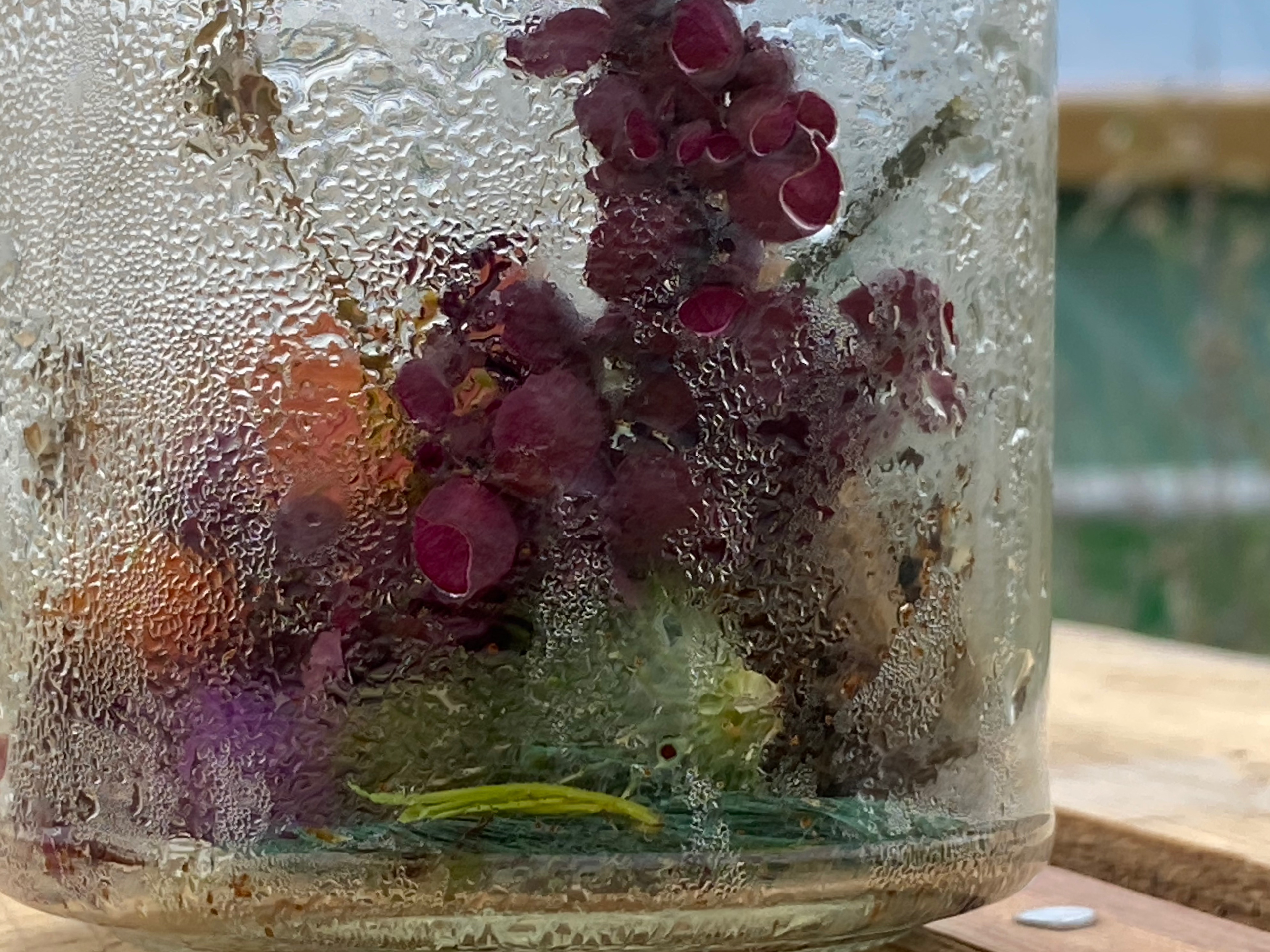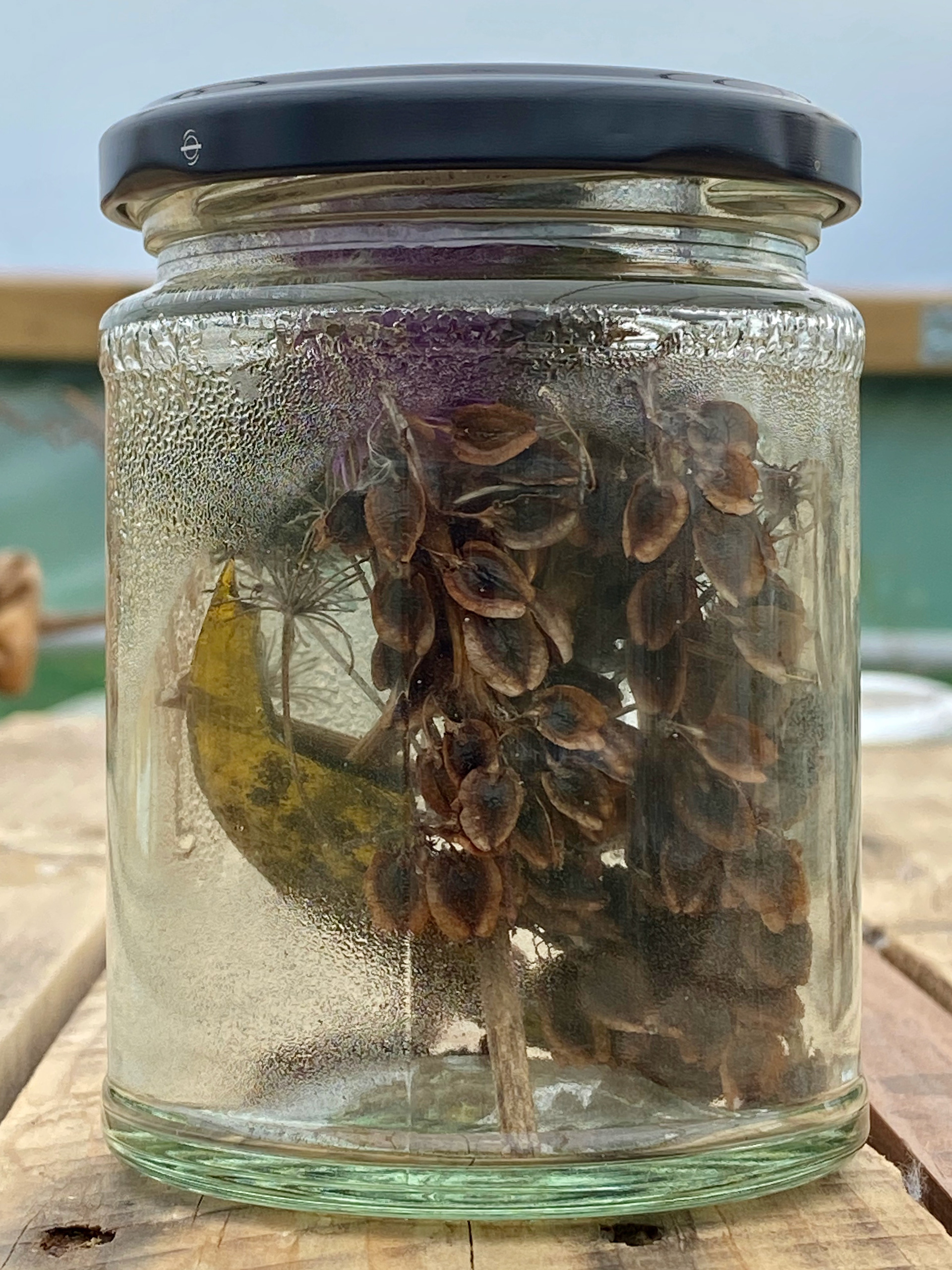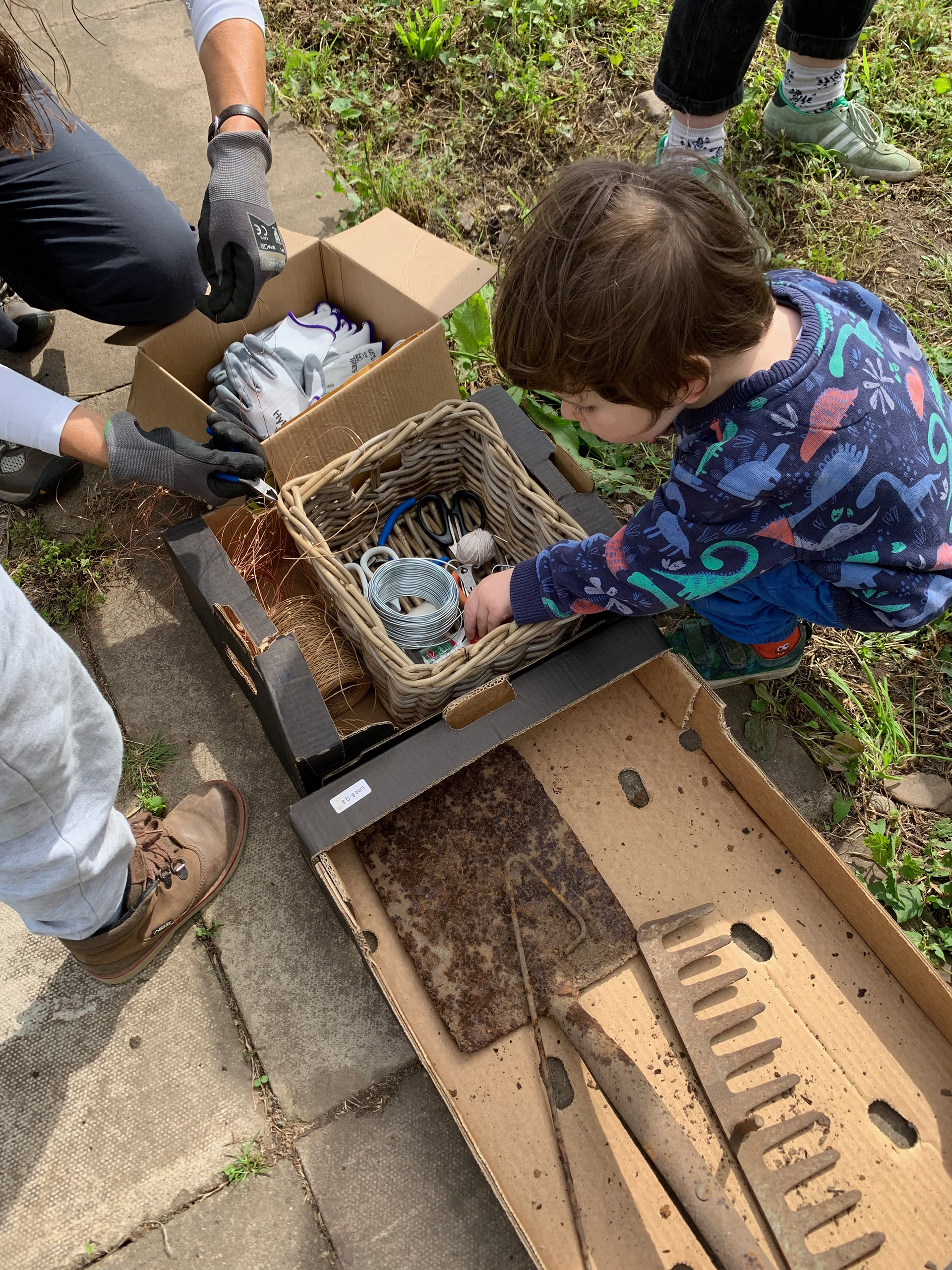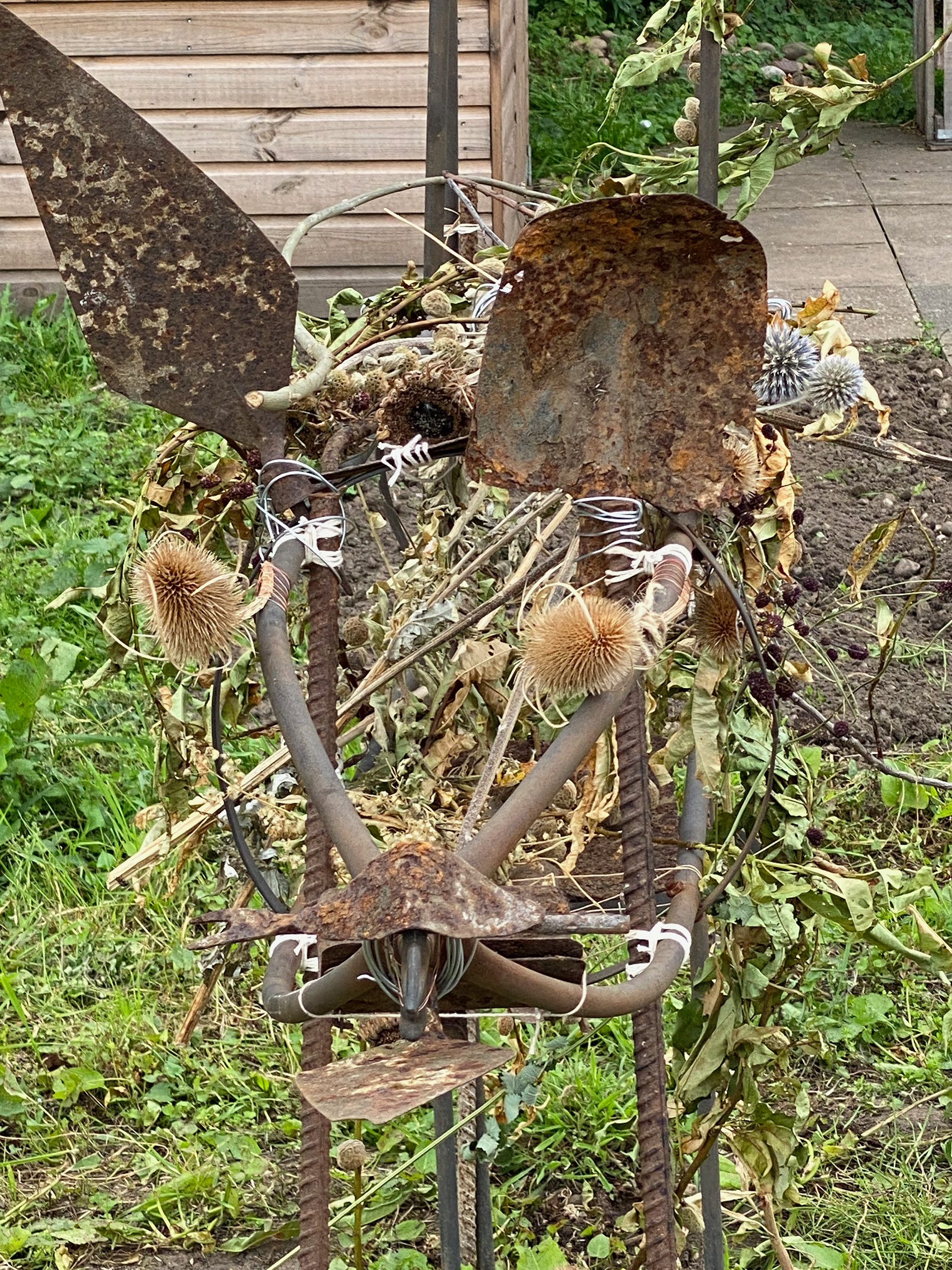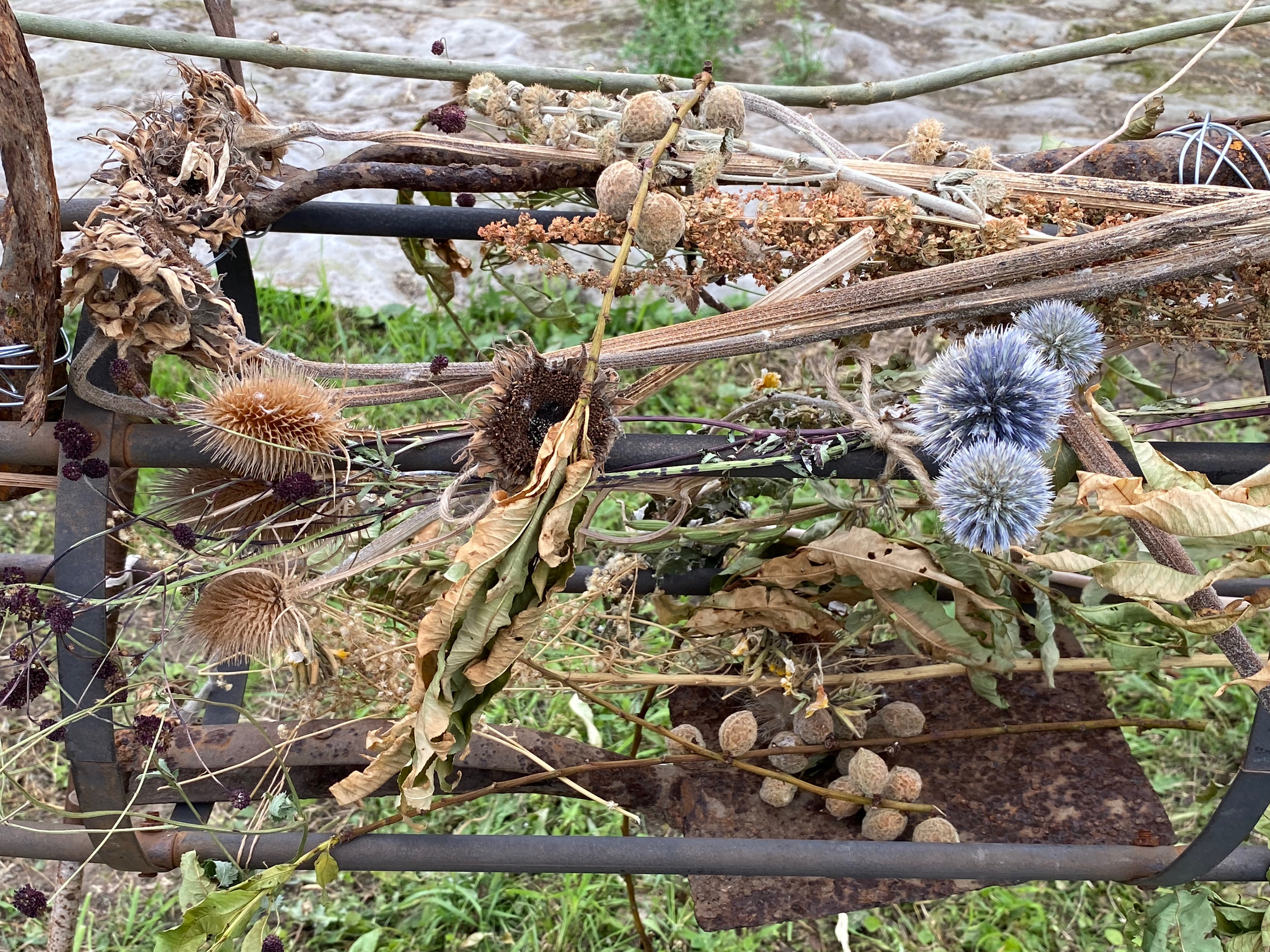 C

ombing for curiosities, focused on exploring found objects, natural and man-made. The site relics and detritus were duly examined and newly gathered treasures were collected in jars, giving rise to a fabulous looking apothecary. 
Moving on to repurpose and recycle abandoned plant supports and tools, the 'dog creature' emerged... so glad it has food in its belly!
There are a vast array of art works and terms to draw on for reference. Below are a few that we looked at over drinks and cake. 
It's decided! the split drum roller is temporarily being given leave of its duties to feature as a 'readymade' in the exhibition. 
Other stuff captured today! Rubber bucket, Cabbage White butterfly on Datura and gently rotating chandelier - from session 2. 
Phil Stokes, our Severn Trent funded horticulturalist, planted a Datura and Castor plant inside and outside the poly tunnel, he's keeping a keen eye on their progress.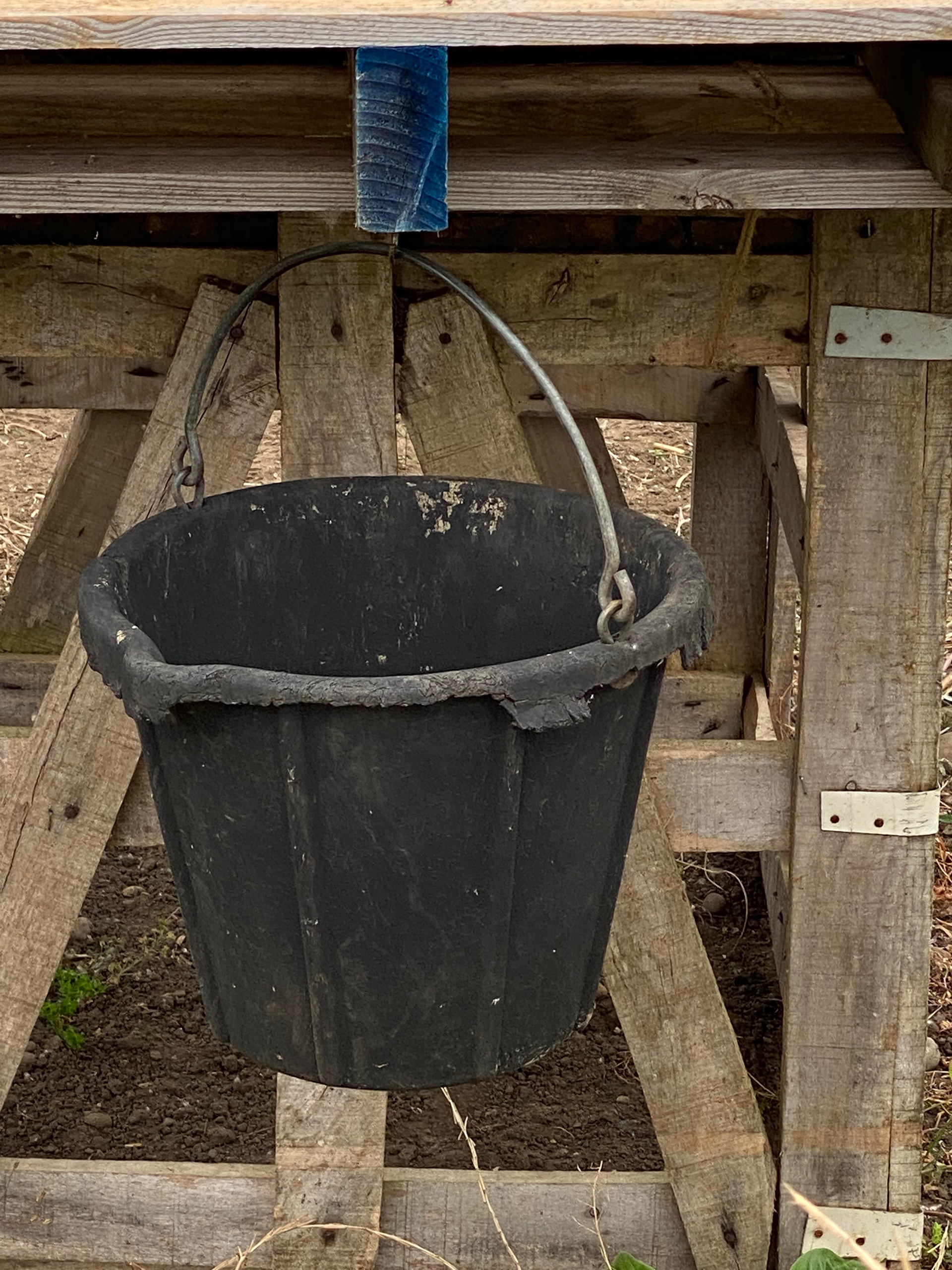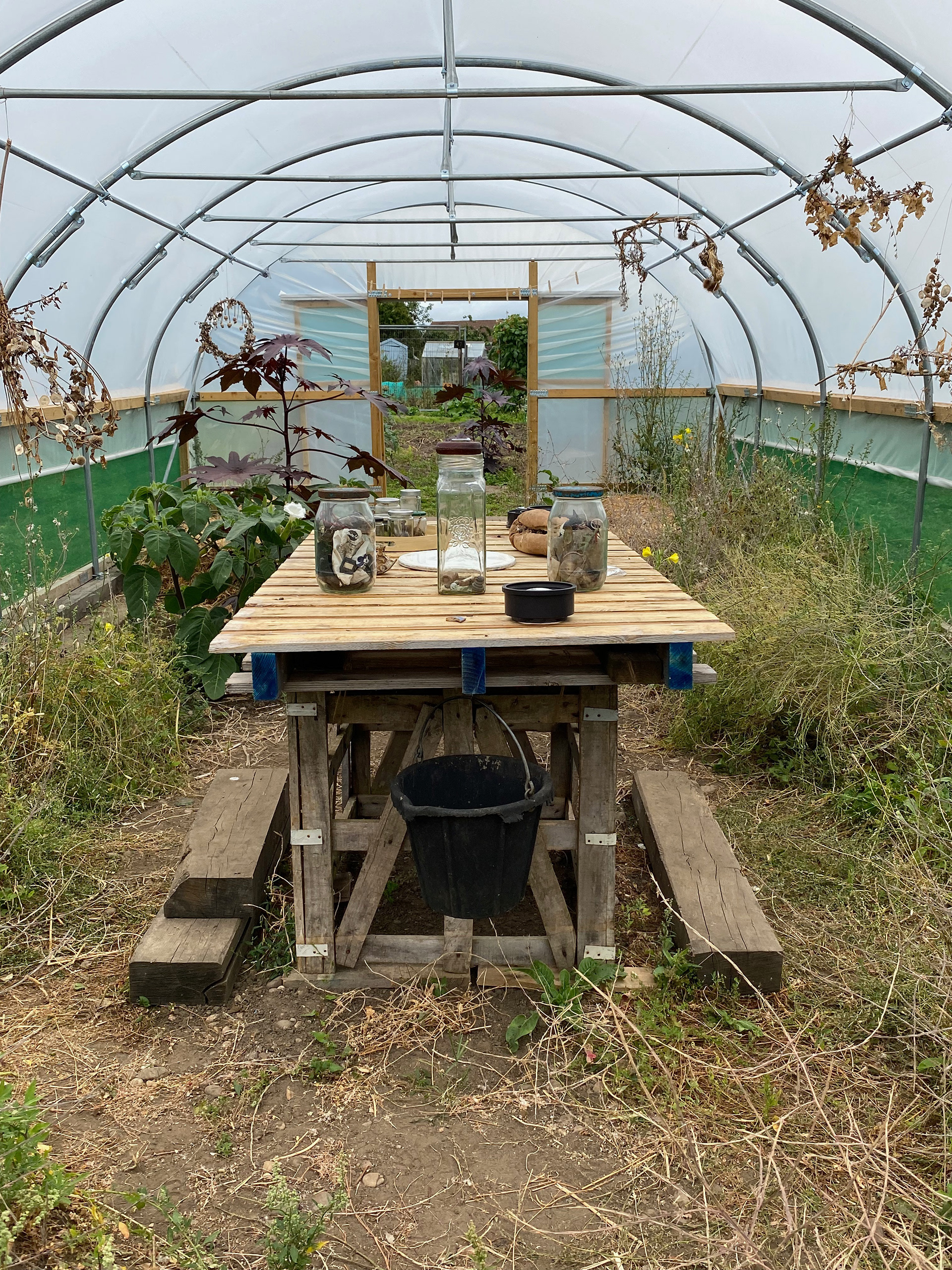 Session 3 - Cyanotypes to Gimbals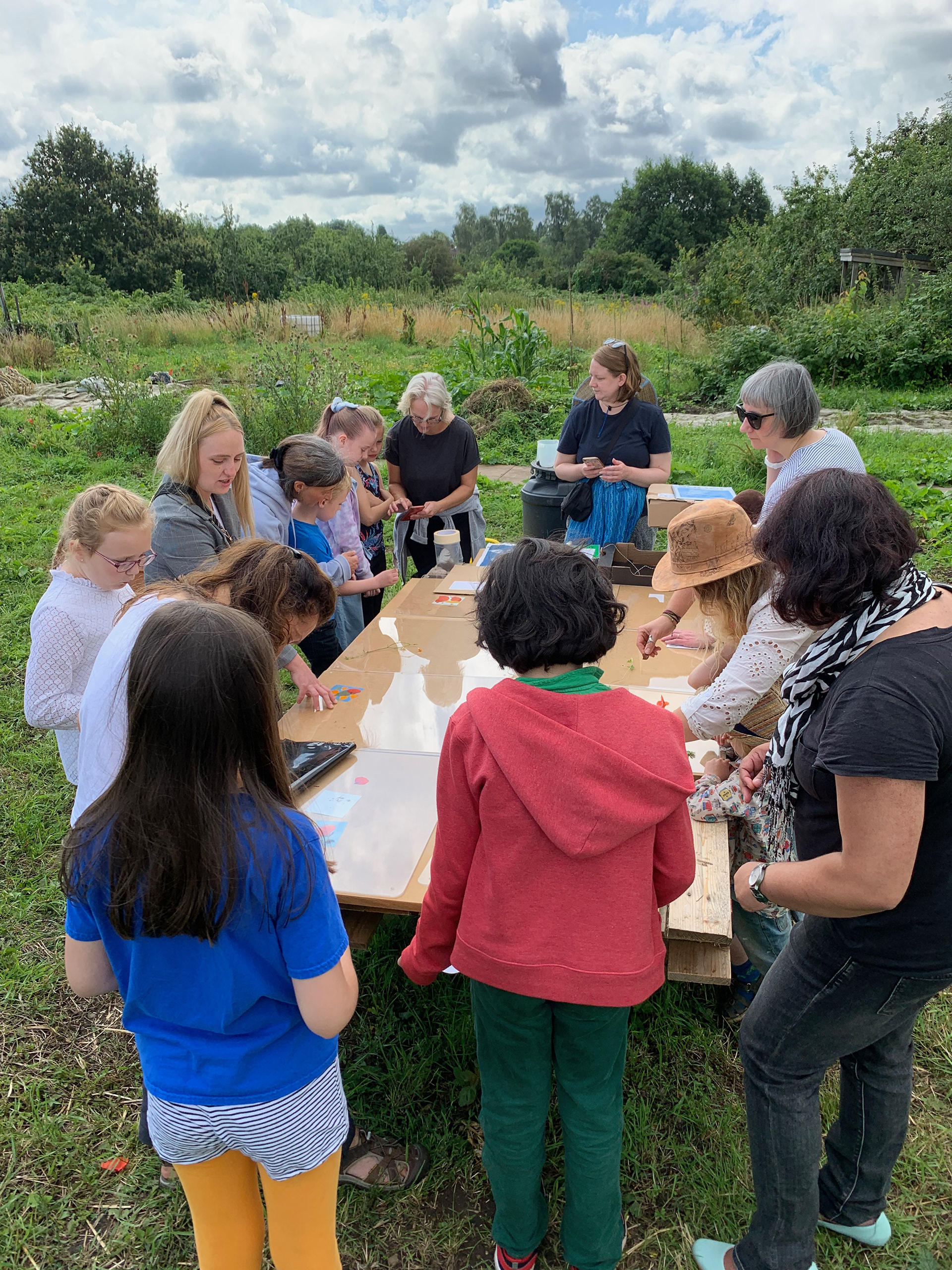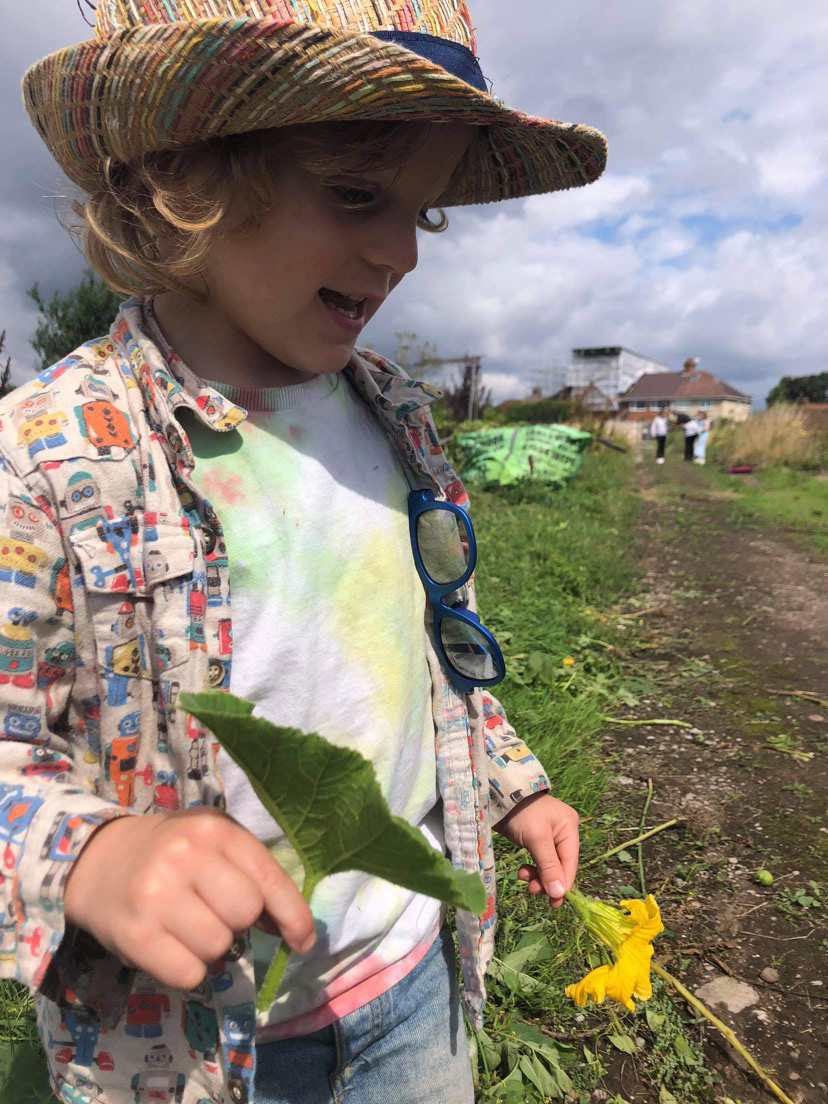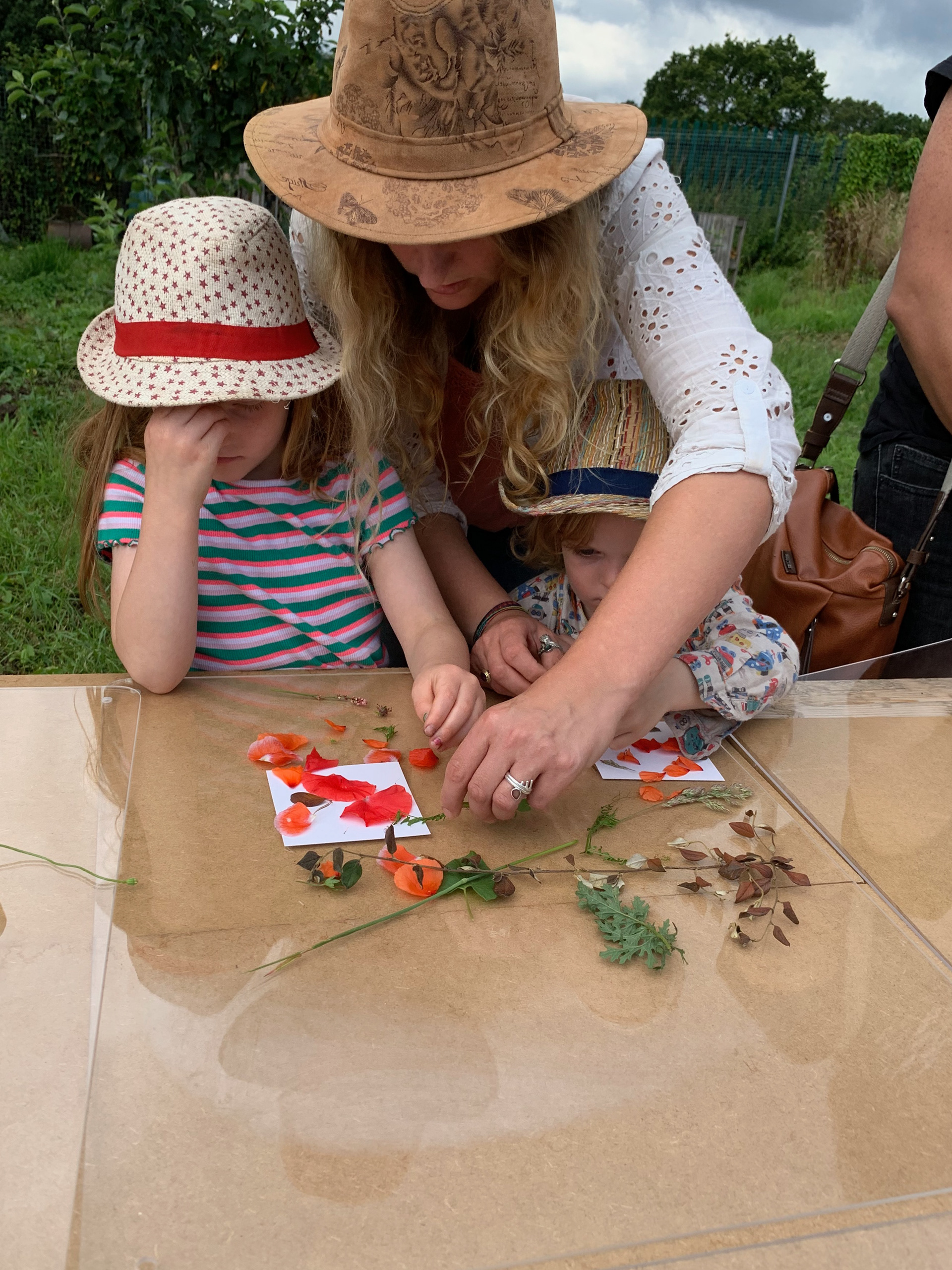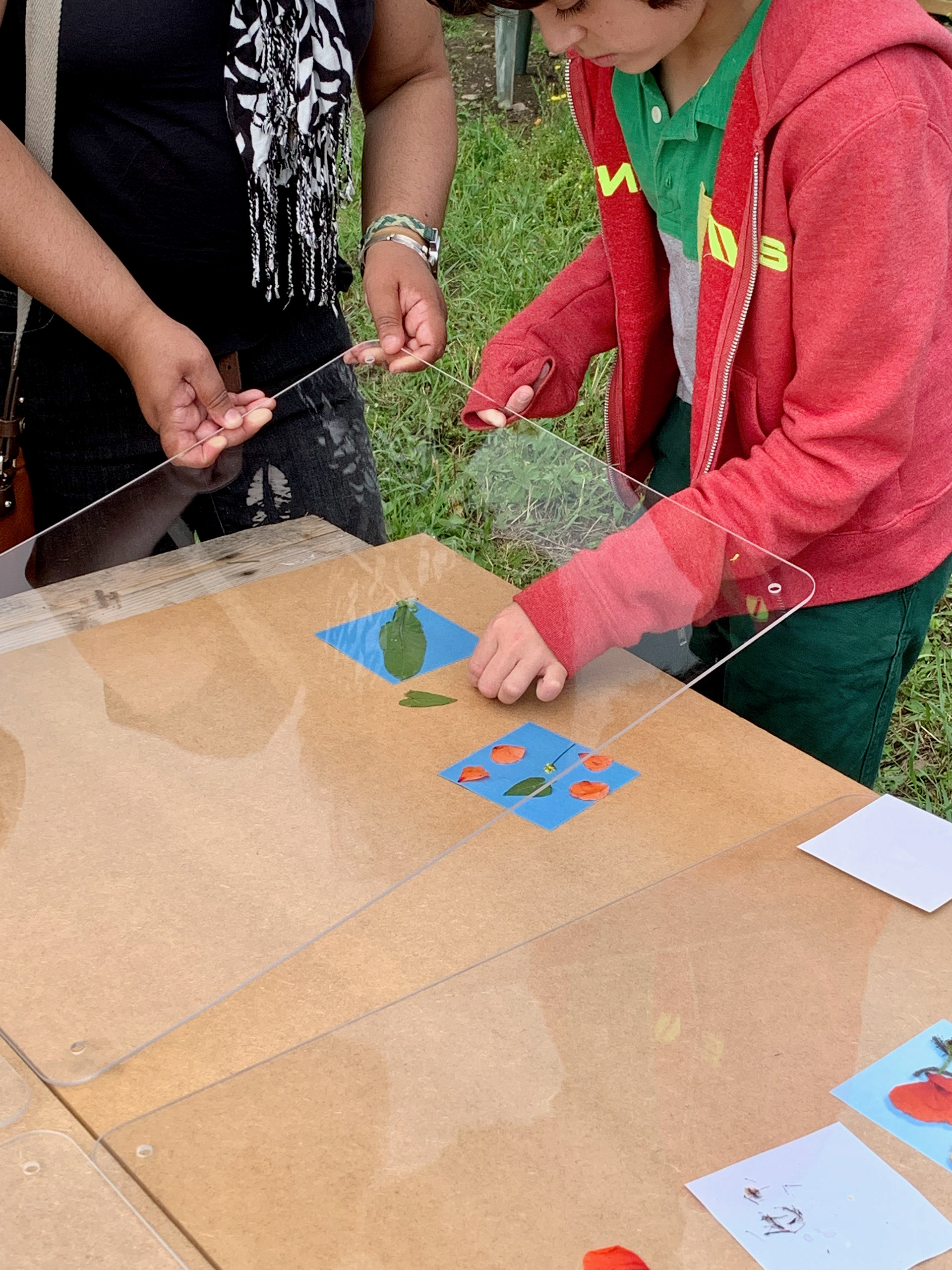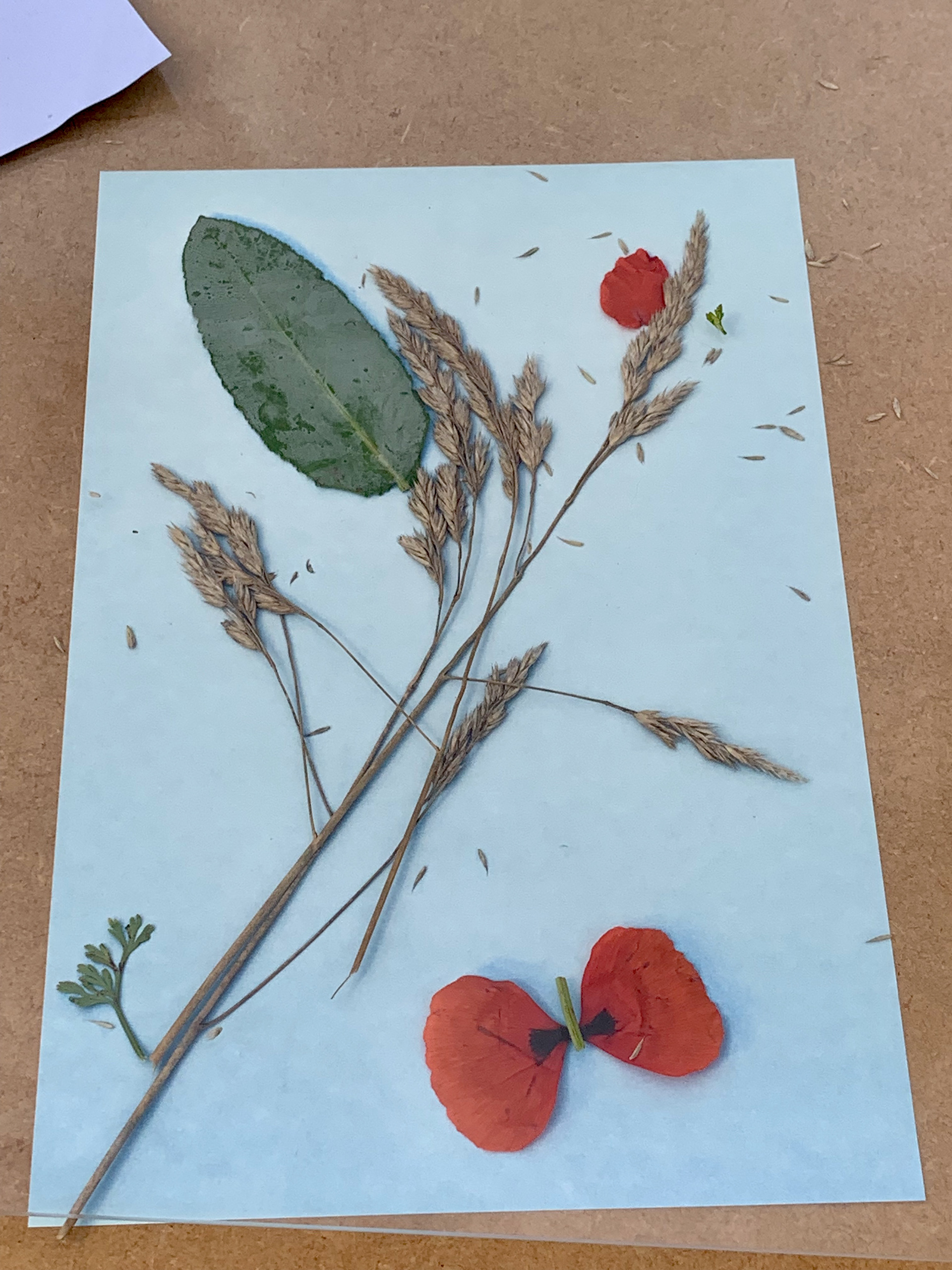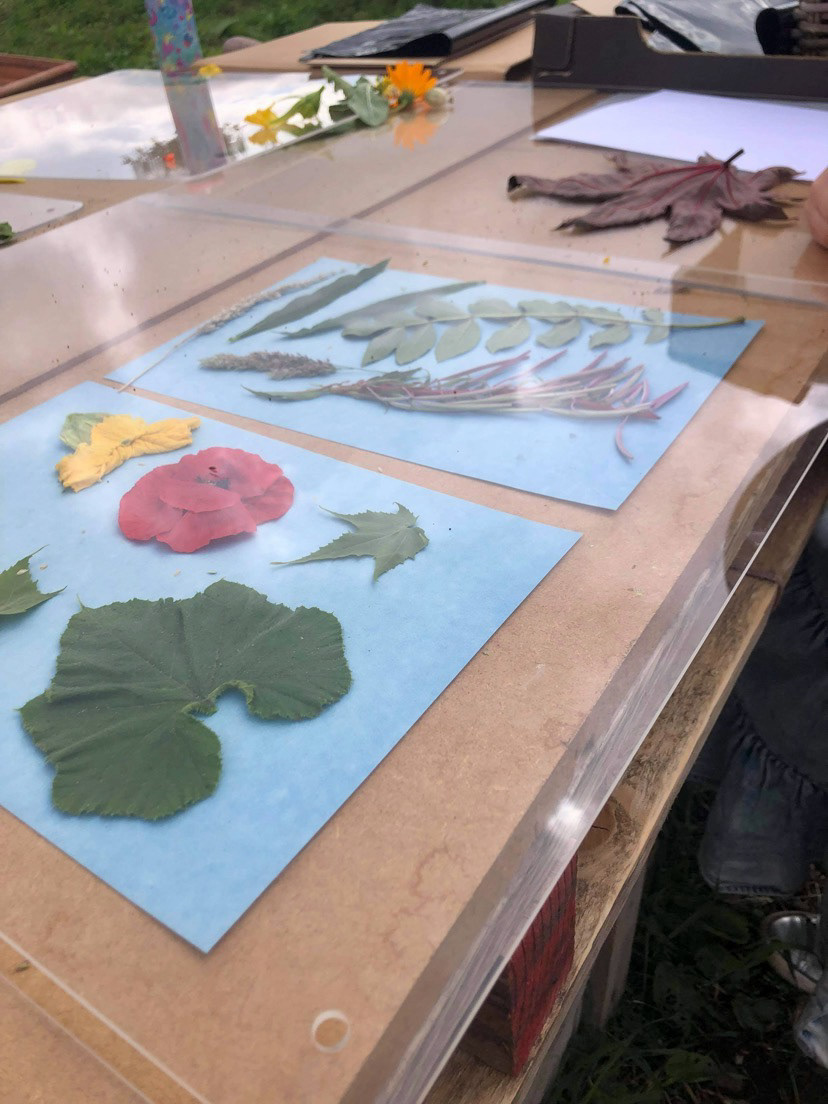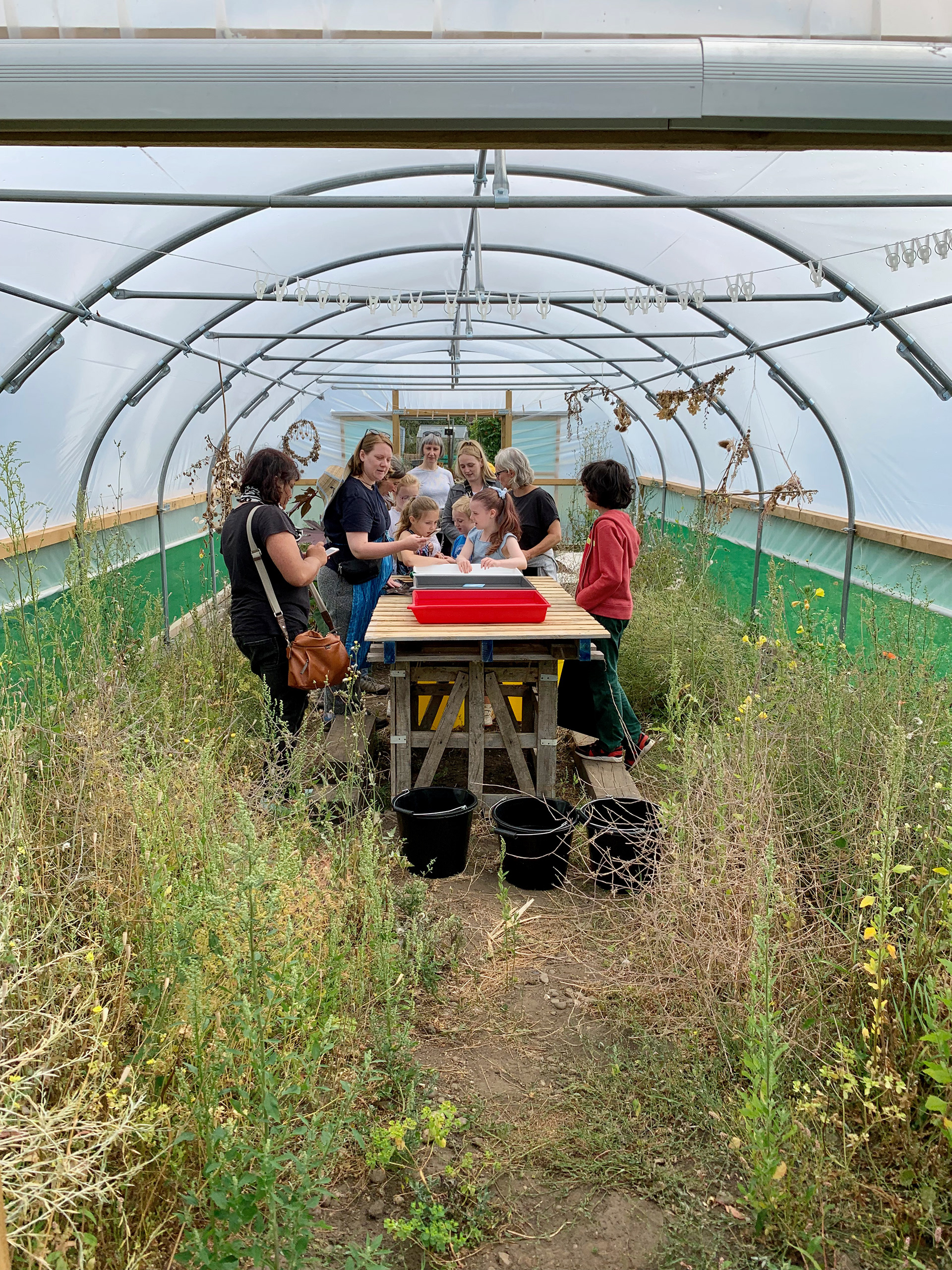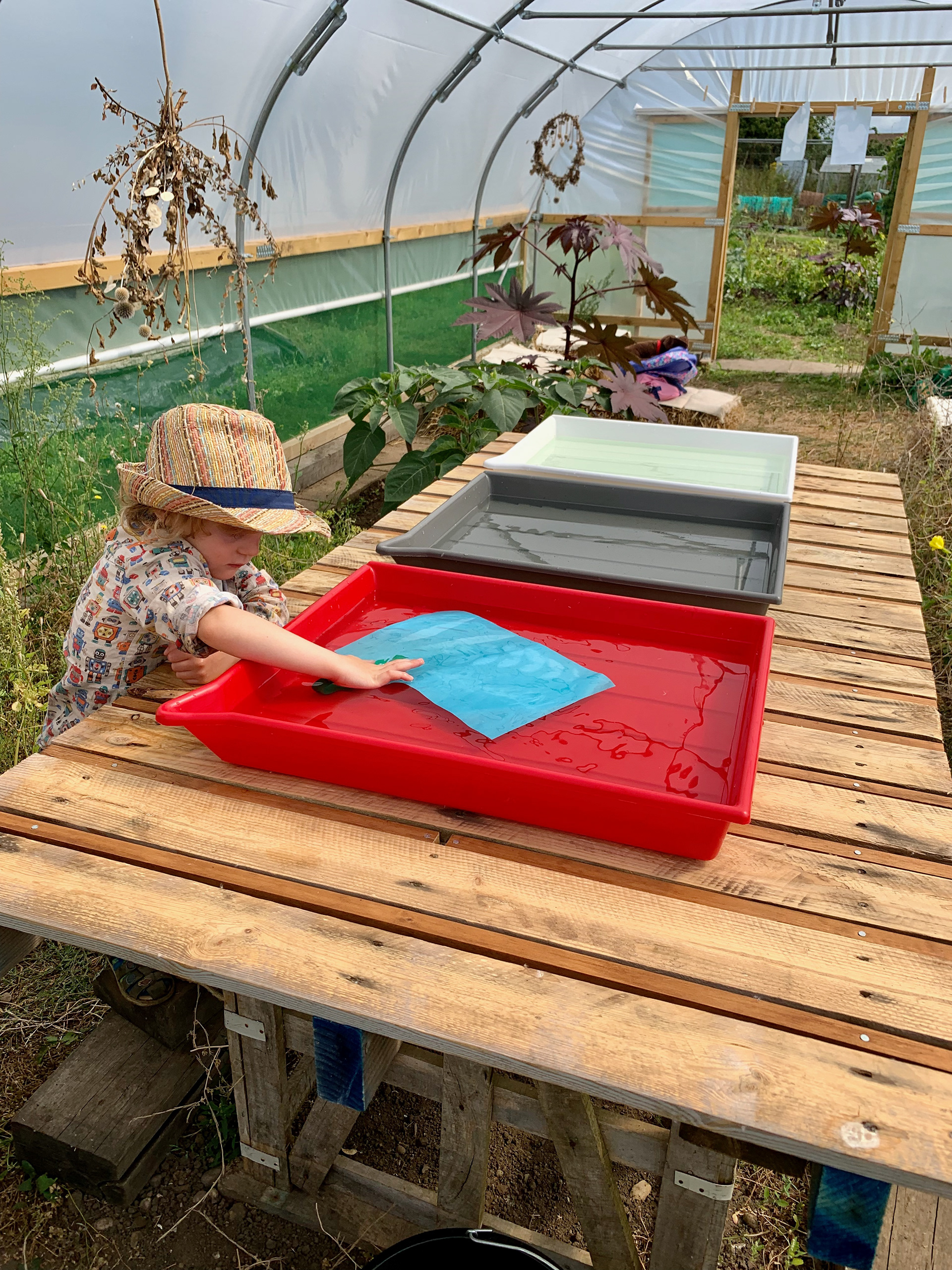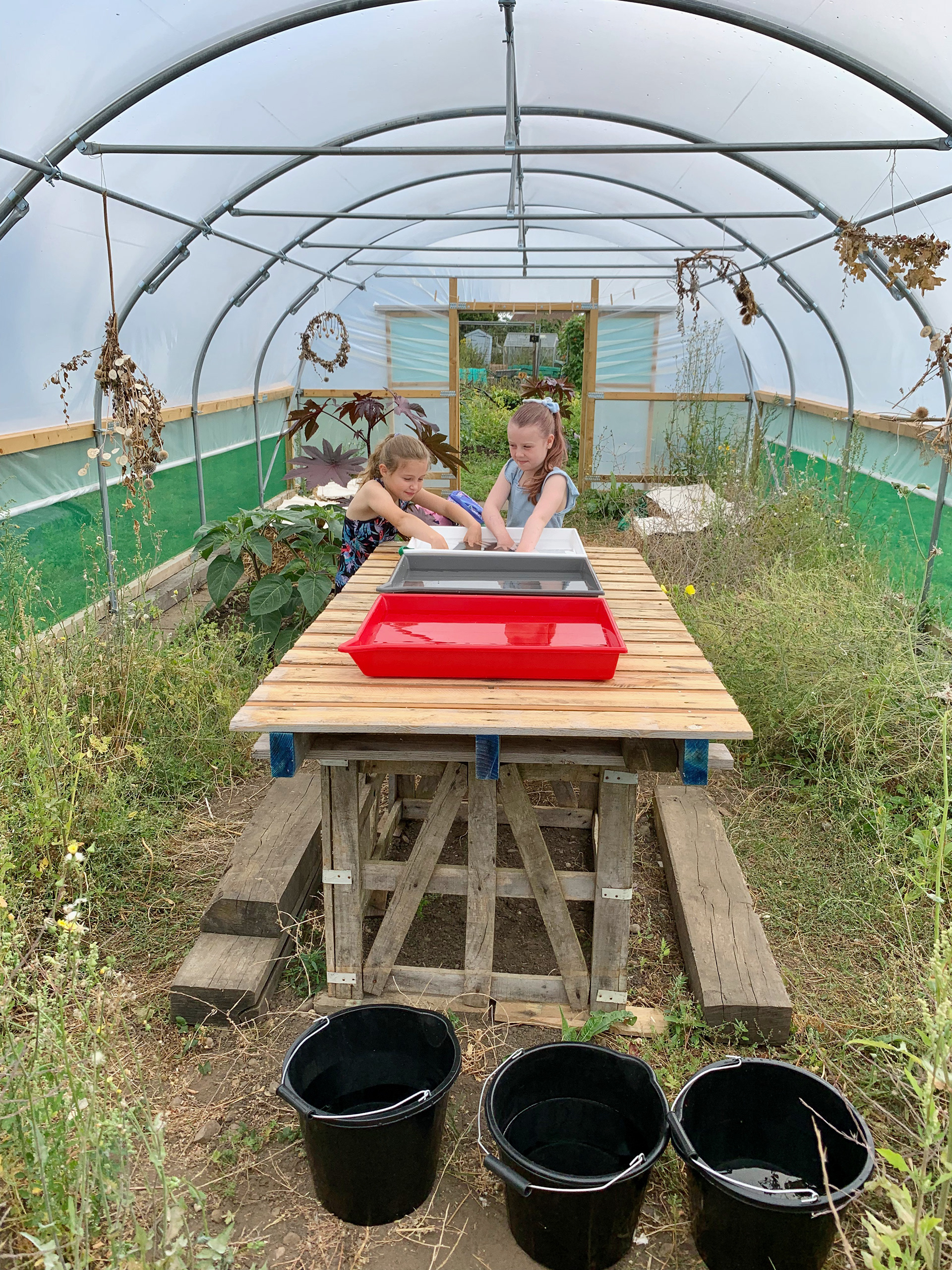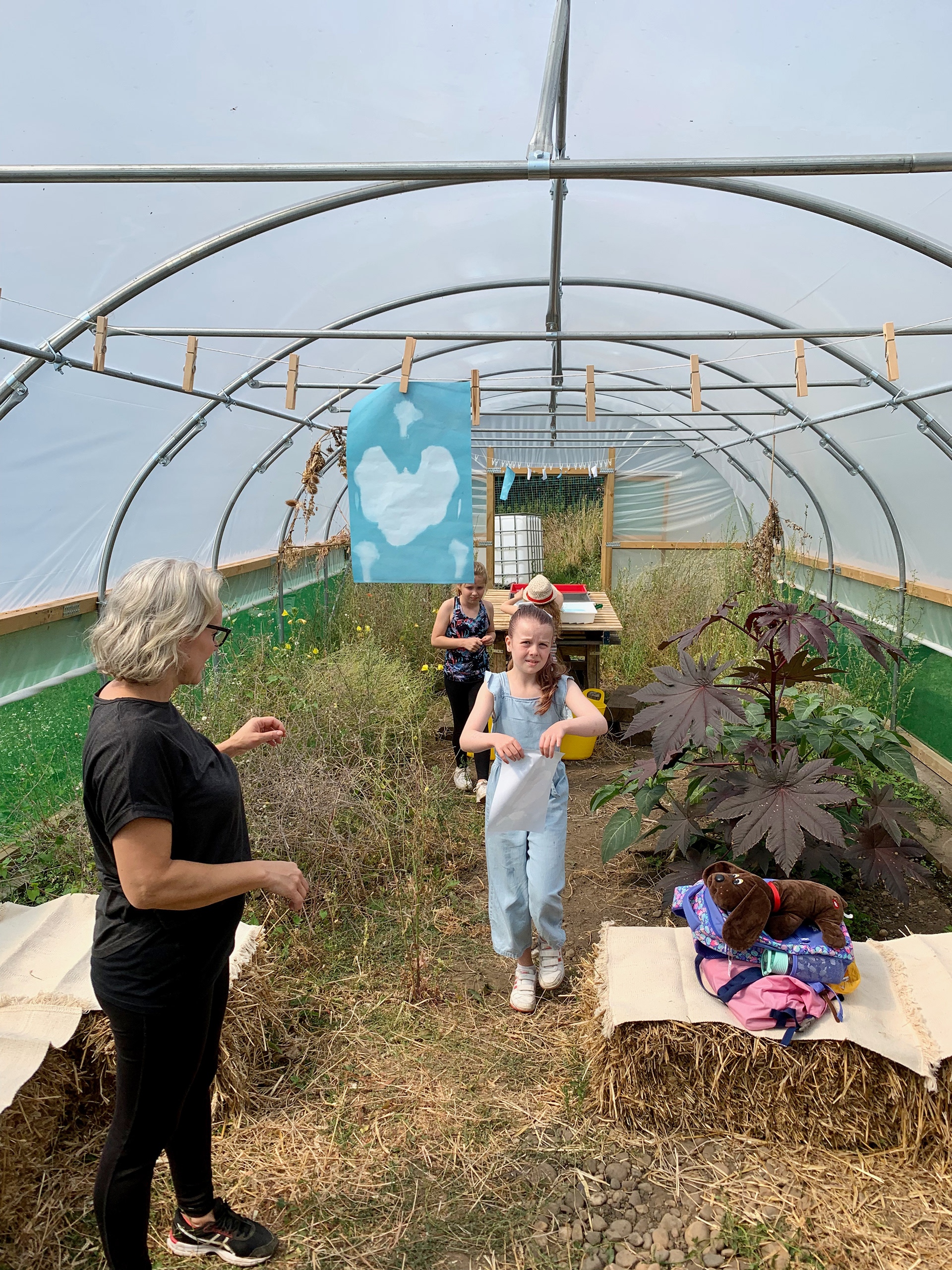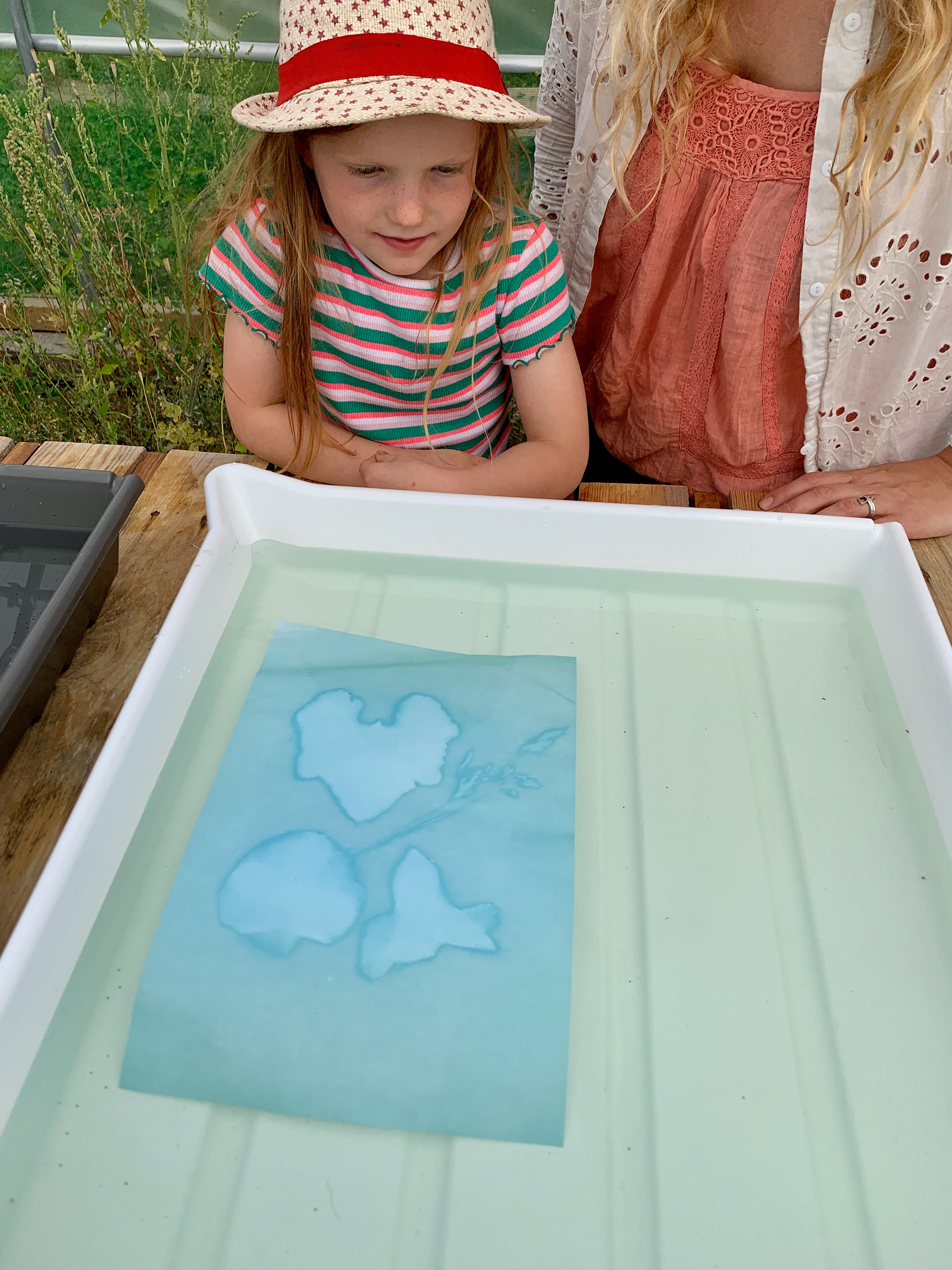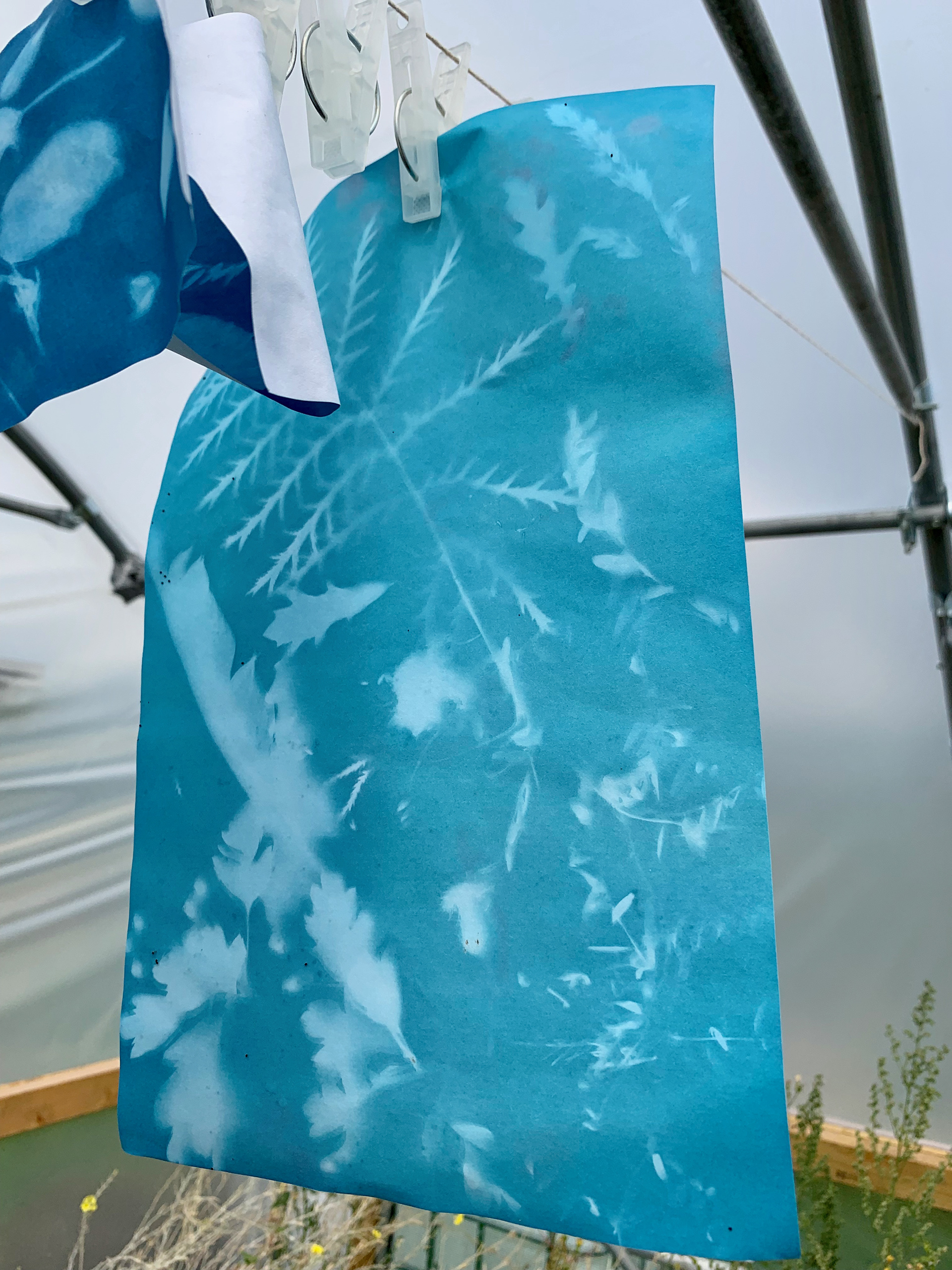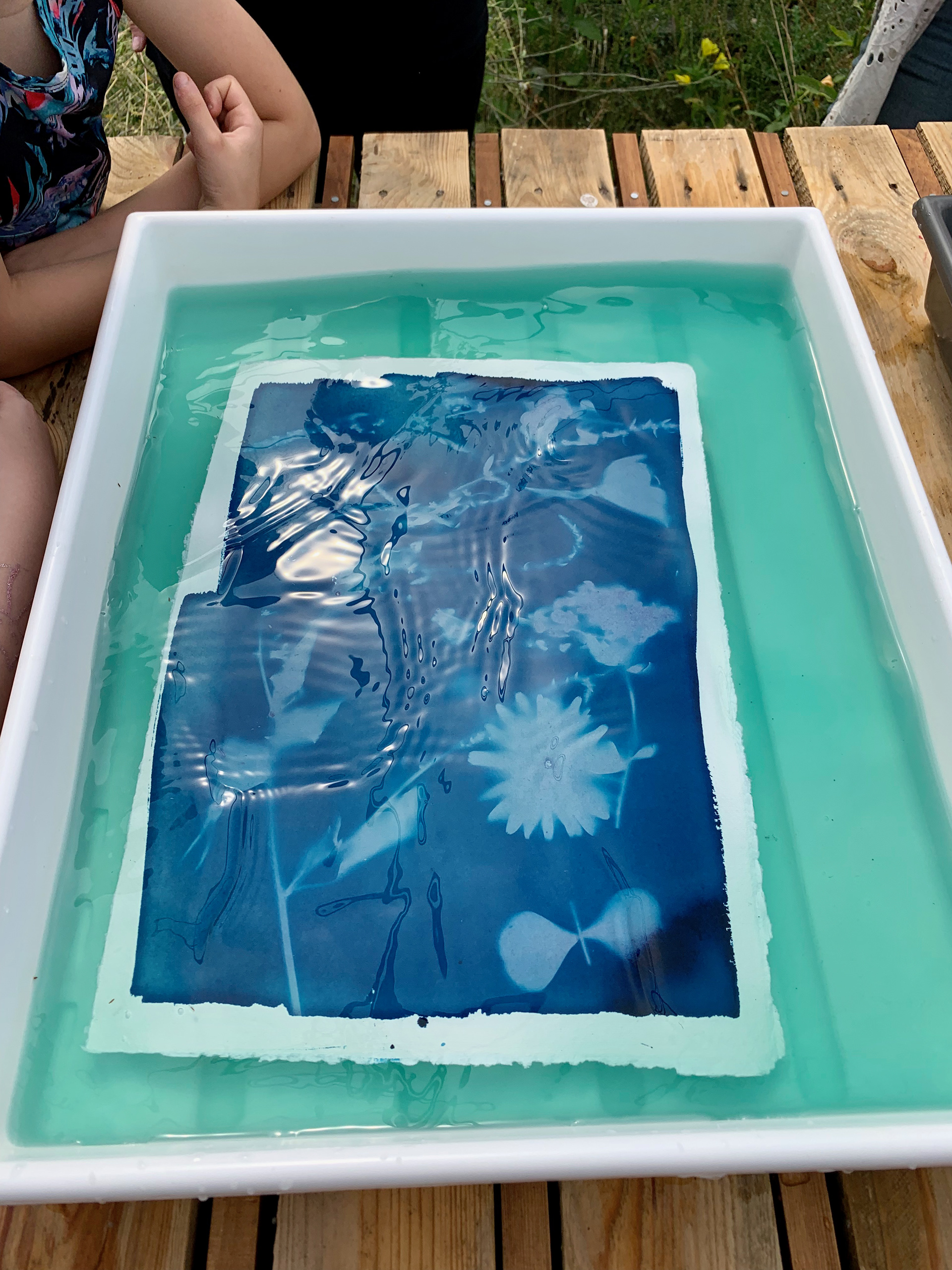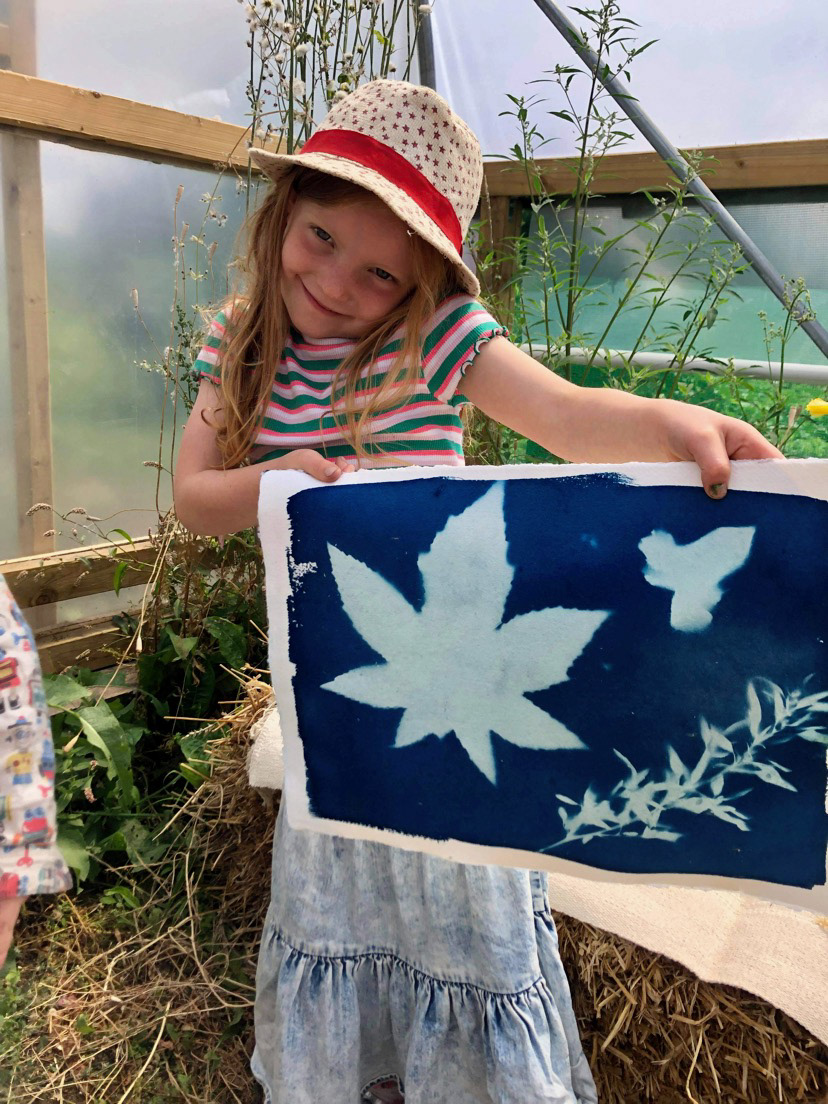 We tried the ready coated, Sunprint Refill Kit, paper and the,Jacquard Cyanotype Set, that requires mixing in the dark and painting onto the finished medium to be exposed to daylight - we used Khadi watercolour paper and calico (all available from
Fred Aldous: Art & Craft Supplies
,

and other stores).
 The Jacquard Cyanotype Set chemicals painted onto watercolour paper yielded beautiful results.
The photosensitive compound, a solution of ferric ammonium citrate and potassium ferricyanide, is coated onto paper. Areas of the compound exposed to strong light are converted to insoluble blue ferric ferrocyanide, or Prussian blue. The soluble chemicals are washed off with water leaving a light-stable print.
​​​​​​​
The cyanotype or blueprint process was first introduced by mathematician, astronomer, chemist, and experimental photographer/inventor John Herschel in 1842. Botanist and experimental photographer, Anna Atkins printed and published Part I of British Algae in 1843 and established photography as an accurate medium for scientific illustration.
Contemporary Artists Working with the Cyanotype Process
​​​​​​​
Exploring nature through old and new technologies didn't quite turn out as planned. We ran out of time to use the gimbal (a device that allows your digital camera to rotate smoothly along an axis) in this weeks workshop but there will be other opportunities.
​​​​​​​
We did however, share images from T

he Deep Listener (2019) by Danish artist Jakob Kudsk Steensen

, which features on our flyer. The work uses technology to foster attention to nature by creating a form of 'slow media'. It is an audio-visual ecological expedition through Kensington Gardens and Hyde Park, a journey to both see and hear five of London's species: London plane trees, bats, parakeets, azure blue damselflies and reed-beds.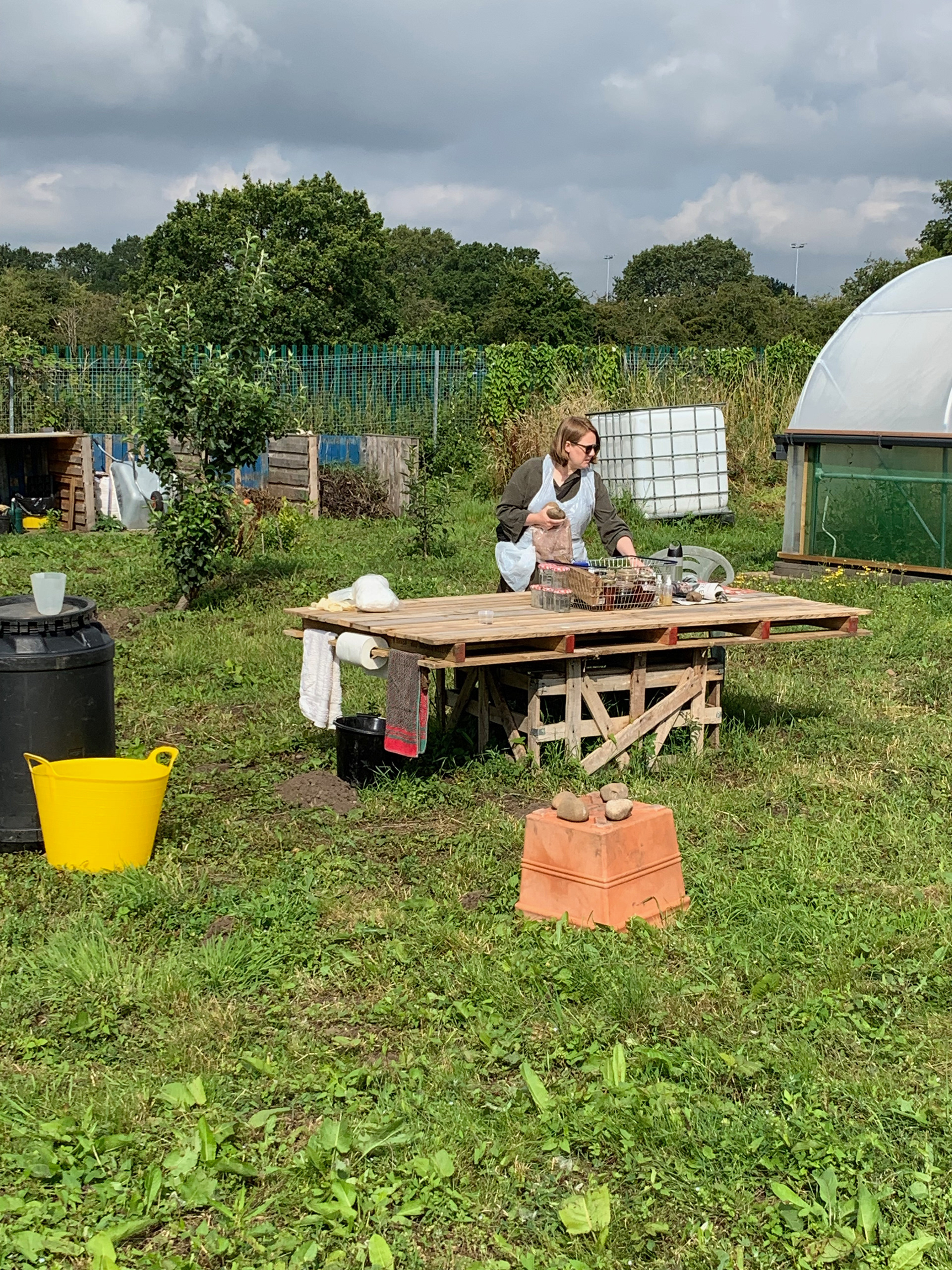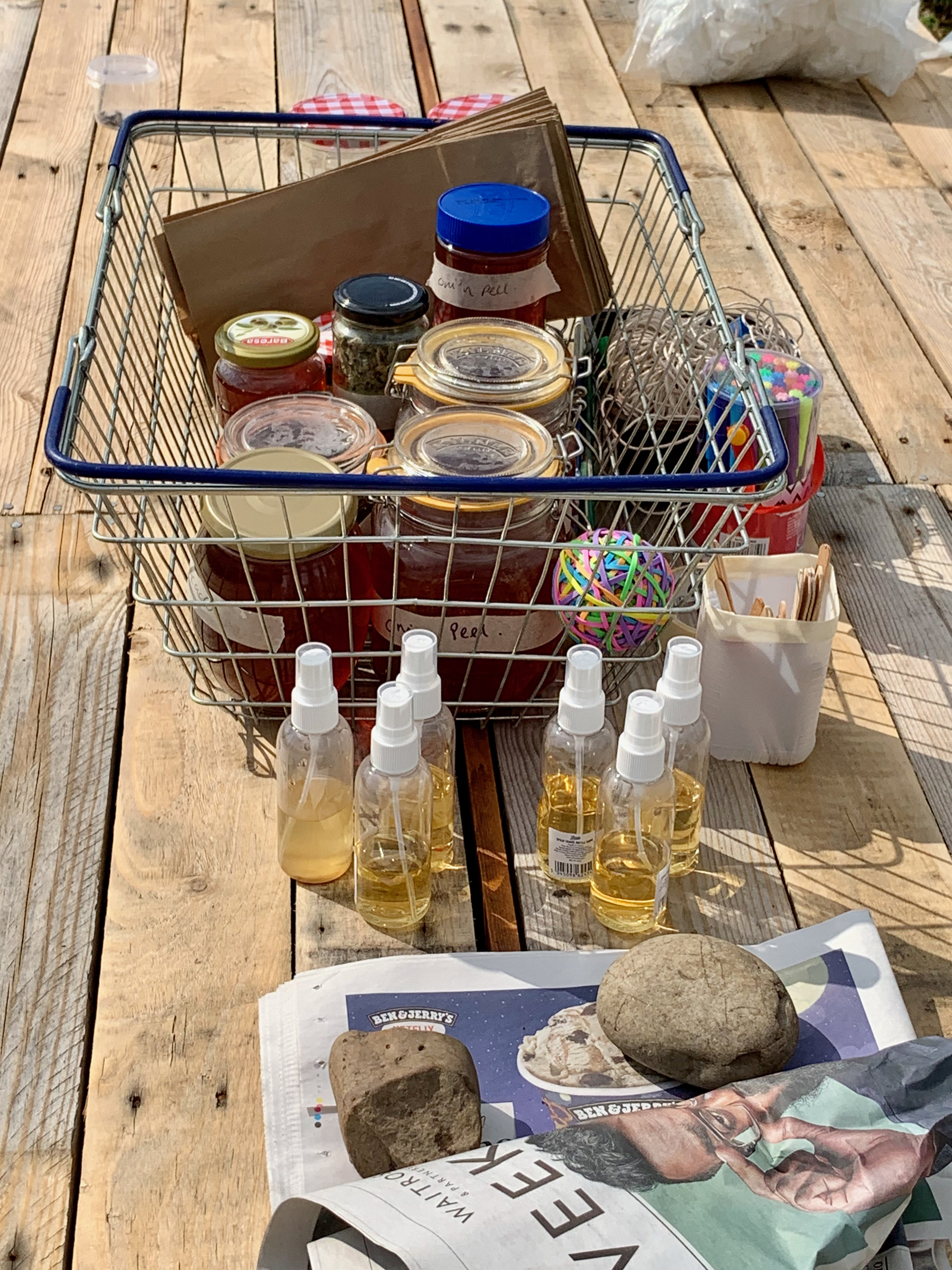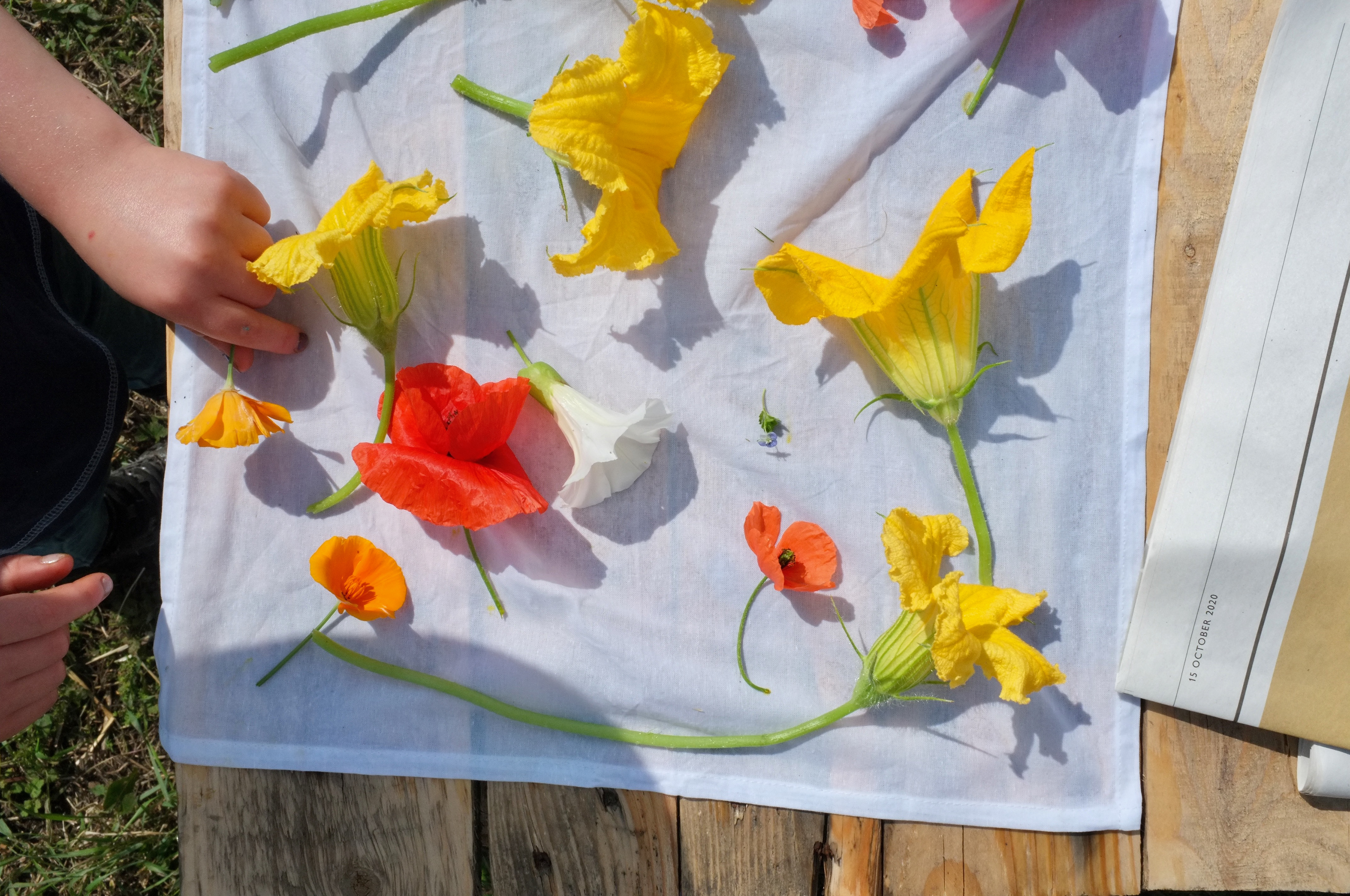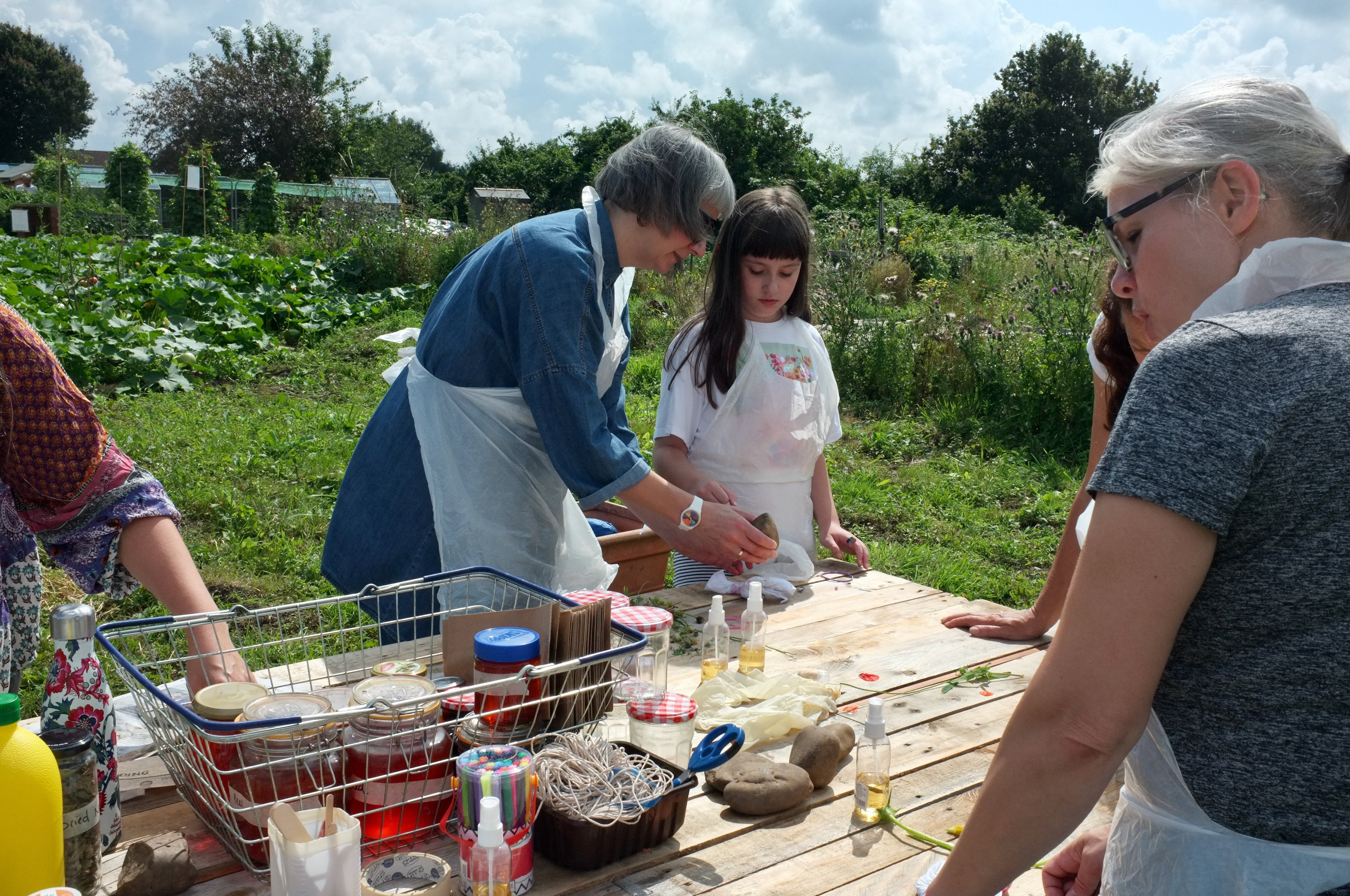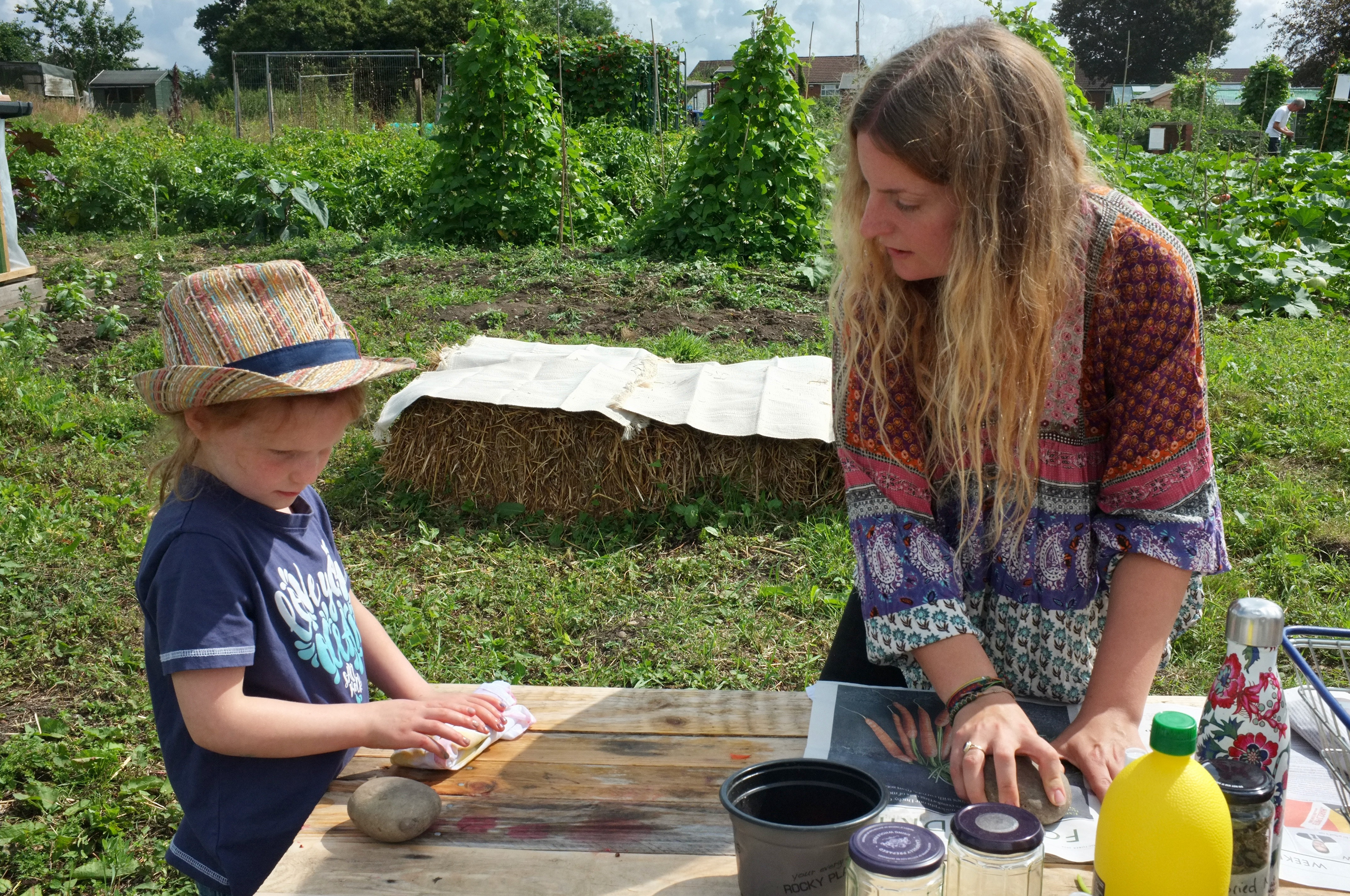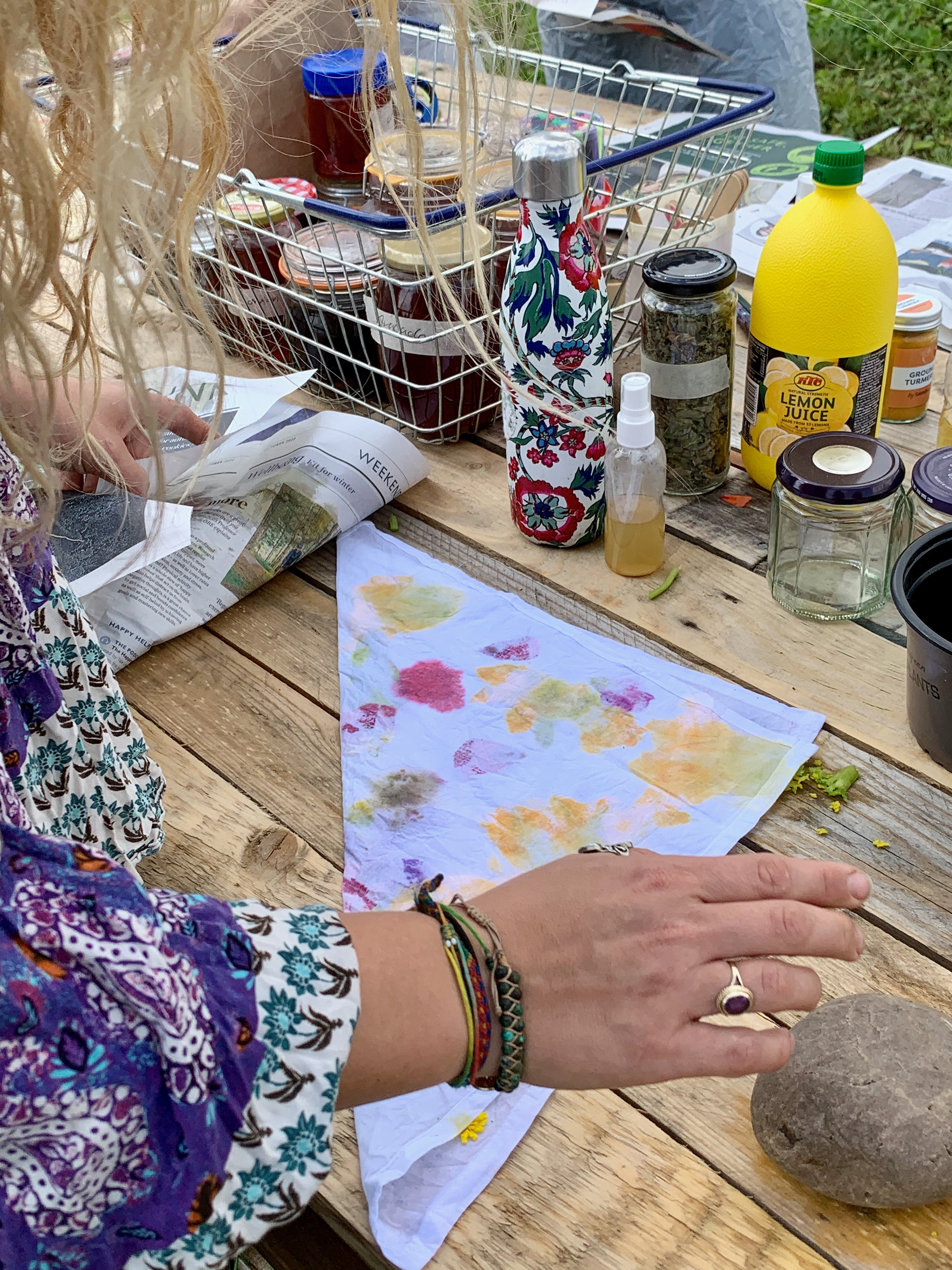 Today's anthotypes - images created using photosensitive material from plants, looked amazing! 
Raspberries, pumpkin flowers, nettles and blackberries were gathered and arranged on large handkerchieves, prepared for printing by dampening and spraying with cider vinegar. Some were folded and submerged in pre-prepared jars of pigment made from food waste. After two weeks they will be rinsed and ironed. We're looking forward to seeing the results.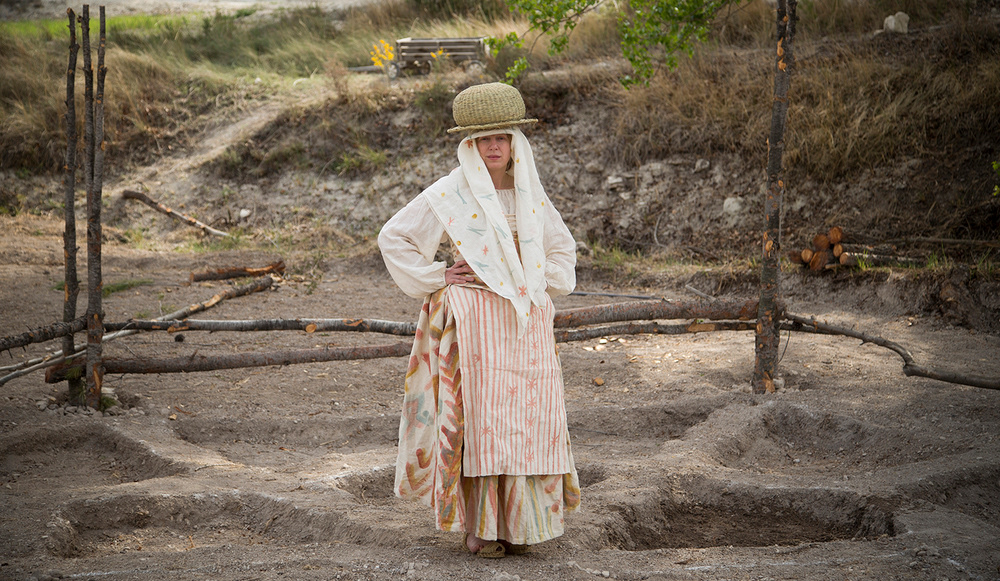 This weeks inspirational artist draws on performance, art history and the complexities of globalisation and contemporary life to expand painting and explore the relationship between painting and the figure of the peasant (a term often used pejoratively). Her work has involved researching pigment gardens and applying traditional techniques to make pigments, tempuras and dyes. Exhibition titles include, The Peasants are Revolting!
Session 1 - Wild Flower Chandeliers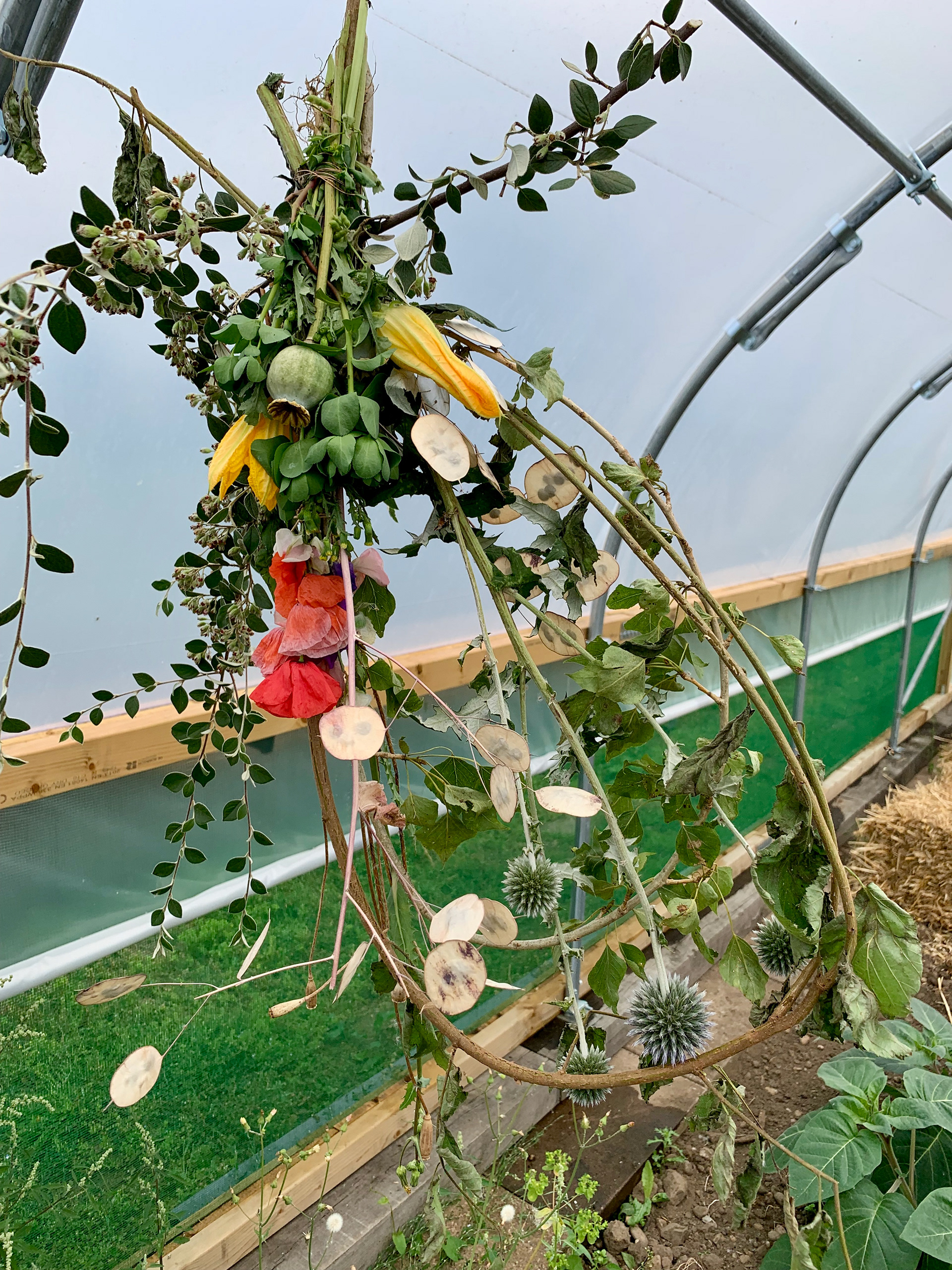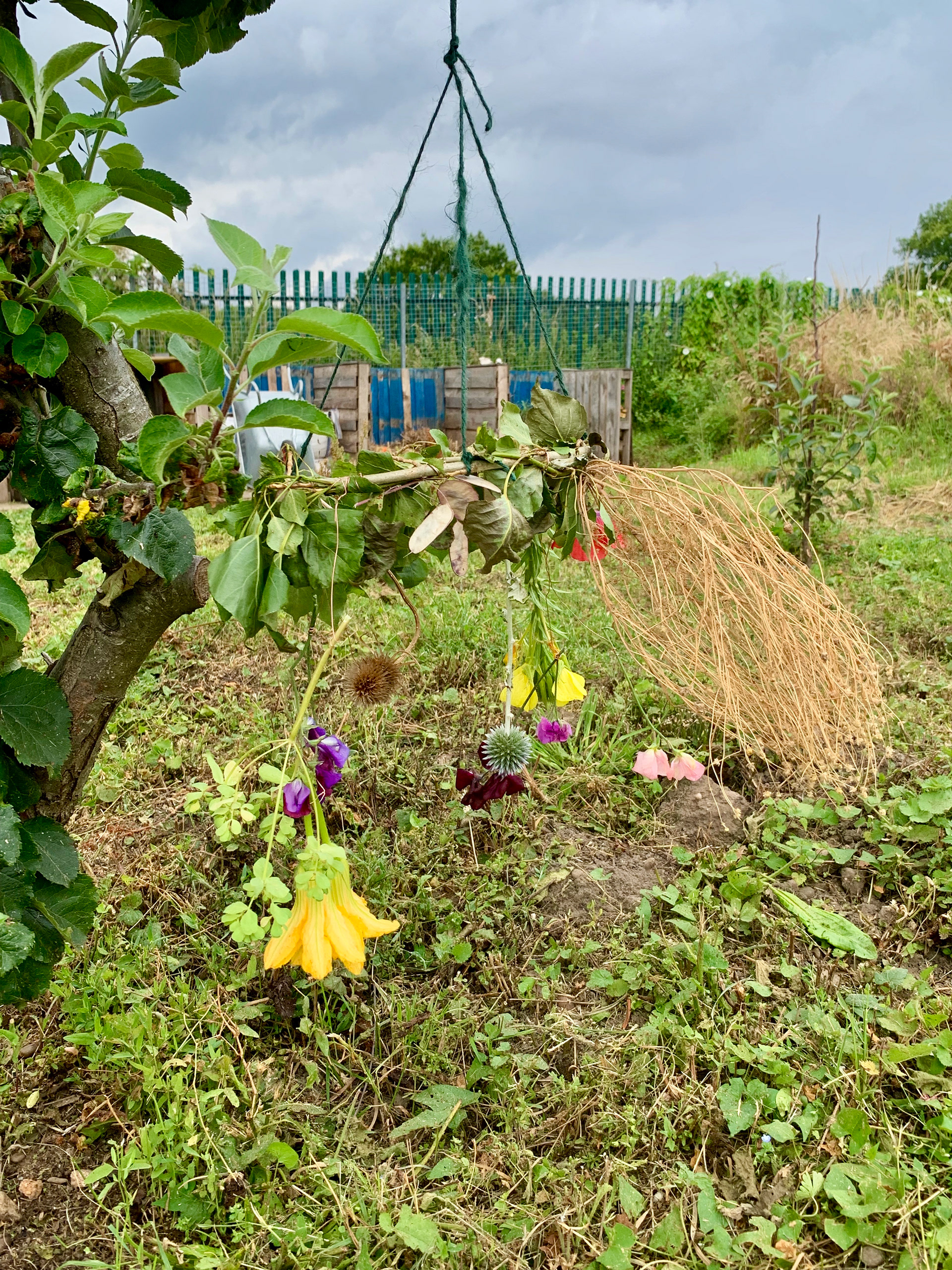 Thanks to everyone for making our first workshop so much fun. 
Even Great Grandpa Rod joined in by helpfully making a child catcher (from Chitty Chitty Bang Bang).

The chandelier workshops draw inspiration from:
Joseph Beuys

concept of using art as a means of acting together to create a more just, humane and ecologically sustainable future is at the heart of PlayGOUND's work. His influence continues to grow, acorns from 7,000 Oaks, planted by the co-founders of Culture Declares Emergency, Akroyd and Harvey, are currently on show at the Tate.